File Details

File Size
4.2 MB
License
Shareware, $29.90
Operating System
Microsoft Hyper-V Server 2008, Windows (All)
Date Added
June 15, 2014
Total Downloads
1,667
Publisher
Mil Incorporated
Homepage
Mil Shield
Publisher's Description
Mil Shield protects your privacy by removing all tracks from your online or offline PC activities. Mil Shield cleans the following tracks: AutoComplete forms and passwords, all WebCacheV01.dat and Index.dat files, temporary Internet files, cookies, all Firefox, Opera, Safari, and Chrome tracks, UserData records, typed URL history, browse history records, most recently used download folder, recent documents history, most recently used folders records of the Windows shell, common file dialogs history, file and computer search history, Start menu Run history and frequently used programs, Recycle Bin at low level (not only through the Windows), Windows temporary files, and restores your home page if it is hijacked and finally it cleans the tracks of some popular applications.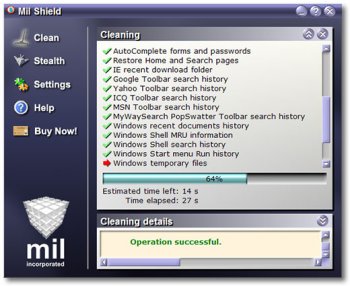 View Full-size
Latest Reviews
Uriel reviewed v7.8 on Feb 5, 2011
This app is FULLY automatic. You can customize it to run at certain times and then forget about it and it will do it's thing while you do your thing.

Also, you can program it to erase or wipe whatsoever file you want. I have mine setup to clean XChat logs for added privacy.

By the way, This is "NOT" a registry cleaner.
jetz reviewed v7.8 on Feb 4, 2011
n00bware. Only n00bz clean thier registry!
ThaRAR reviewed v7.7 on Nov 30, 2010
I love the speed with which Mil Shield cleans IE/Firefox tracks after browsing the net, and how easily it checks my Registry and system and cleans leftovers out. This program will Never Let You Down!
MrFreak0 reviewed v7.5 on Sep 30, 2010
I have this software for a couple of years and I this is my tool for system cleaning and Internet privacy.

It can clean everything on your computer but has no re-formatting option.
Frankie122 reviewed v7.5 on Aug 5, 2010
Great program, have no problems with Registry cleaner, garbage files are removed without any consequences (thus far), works very well with WIN7 x64bits and Firefox!
xNADEx reviewed v7.5 on Jul 13, 2010
One of my rules is - don't pay for software if there is analogous freeware out there. But this program changed my opinion.

- MilShield is for browser cleaning and computer/registry cleaning. And does it well!

-MilShield never doesn't mess with other tools or the system.

Recommend it for all, try it, u will not regret for this deep-cleaning stuff cleaner!
TheGodfatherK reviewed v7.5 on Jul 5, 2010
I've been using this product for 7 months and have encountered no problems with it.MilShield is very customizable and rich of features.I recommend better scan feature, that's why I give it 4 stars.
4690 reviewed v7.5 on Jun 23, 2010
It was the only one I liked, (that worked) on my Windows7 64 bit system. Each new release is much better, keep good work..
GarrettP1 reviewed v7.5 on Jun 14, 2010
I've been using it a couple of years and its absolutely great!

Speaking personally, I've never had a problem after using it. The only thing I recommend is: please add a tool to create website hashes.
phiber0ptik reviewed v7.5 on May 13, 2010
All right. Seems abit advertising rated, it doesnt feel like it is ordinary users who wrote them ... In any case, CrapCleaner (probably better known as ccleaner) is free and sweep the tracks ... but only on the computer:) No software is able to clear your Internet provider's logs:)