File Details

File Size
1.2 MB
License
Freeware
Operating System
Windows 2000/9x/Server 2003/XP
Date Added
July 1, 2004
Total Downloads
80,469
Publisher
Alex van Kaam
Homepage
MotherBoard Monitor
Publisher's Description
Motherboard Monitor reads temperature and fan RPM data collected by your system's BIOS, displays it in the Windows system tray, and alerts you when there's trouble. You can use this application to manage your resources and alarms by doing things like setting an alarm to go off, or having an email sent to another computer, when your motherboard starts to overheat. You could even have programs start and stop when your CPU reaches predetermined temperatures.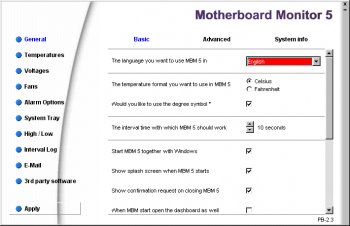 View Full-size
Latest Reviews
RMerlin reviewed v5.3.7.0 on Jul 13, 2004
Thanks to an open API, his hard work can be used by third party programmers. I too ain't fond of his GUI (I used it a few years ago mostly for the systray icons it created), but I use his DLL with Samurize now.

Shame about development being stopped. But I think it's more in the hands of mobo makers to change their mind than Alex - he can hardly continue working on something that relies on a steady feed of programming informations from the hardware manufacturers.

Another sad victory for the corporate world :(
yokozuna reviewed v5.3.7.0 on Jul 12, 2004
Great program! Unfortunately, some producers refuse to submit important data to the author of the program, e.g. MSI could write how to read CPU temperatures from the core of CPU (not socket temperatures). PC Alert 4 submitted by MSI itself does it. I cannot blame the author, but I blame some mobo producers. I do hope that the author of MBM will change his mind and continue the development of the great proggie...
Dwarden reviewed v5.3.7.0 on Jun 18, 2004
As always perfectly working , for free and simple to use ...

Thanks to Alex for all his work
OPaul reviewed v5.3.7.0 on Jun 18, 2004
Great program, very useful but I personally don't like the GUI.
Bachalor reviewed v5.3.7.0 on Jun 18, 2004
Very good tool, FREEWARE and now I can permanently check my CPU temperature. Thanks for it.
Hei-ko reviewed v5.3.5.0 on Oct 24, 2003
On the HP you will find 5.3.5.1

very nice
Dwarden reviewed v5.3.3.0 on Jun 9, 2003
It's very simple to disable e.g. fans or volage monitoring cycles (and free query time for SMB access to temperature request only). It offers much more than SpeedFan (even both are great).
Tridus reviewed v5.3.0.0 on Mar 21, 2003
I find this program to do too much for my purposes. If you just want to monitor CPU/mobo temperature without a lot of fuss, I suggest something like Speedfan instead.

(Hardware Sensors Monitor is my actual favorite, but its expensive.)
ogre2112 reviewed v5.2.1.0 on Oct 30, 2002
A must have program!
ryanvm reviewed v5.2.1.0 on Oct 30, 2002
Awesome program, works awesome with my KG7-RAID setup.
And yes, it will work fine on an Intel platform as well ;-)