File Details

File Size
5.6 MB
License
Freeware
Operating System
Mac, Unix, Windows Server 2003/Server 2008
Date Added
July 29, 2009
Total Downloads
2,336
Publisher
Six Apart, Ltd.
Homepage
Movable Type
Publisher's Description
Movable Type is the platform that invented professional-grade blogging, powering the biggest and most successful blogs for pro bloggers, publishers, organizations, enterprises and businesses of any size. As blogging continues to evolve, Movable Type leads the way with reliable service, outstanding performance and continuous innovation.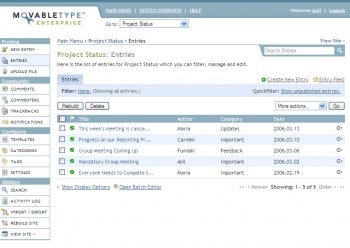 View Full-size
Latest Reviews
dtoxx reviewed v4.1 Beta on Dec 14, 2007
I agree with dhry. Wordpress installs rapidly and with practically no fuss at all. MT on the other hand is insanely frustrating to install, especially locally.

If you want stability and flexibility, with a no-hassle installation, go with Wordpress.
Diam0nd reviewed v4.1 Beta on Dec 14, 2007
Great platform!
dhry reviewed v4.01 RC1 on Sep 7, 2007
If that screenshot is of v4, then it STILL has the blasted "rebuild site" options. No thanks. Software like this only gets one chance. Like I said, Wordpress kicks this into a c***ed hat. Straight out of the "box", Wordpress was impressive and continues to impress - especially with the timely security updates and the wealth of available plugins. I wouldn't ever bother with MT again.
Diam0nd reviewed v4.01 RC1 on Sep 6, 2007
I suggest people who leave bad comments here to actually TRY v4 of Movable Type. All that bad mouthing REALLY sounds like v3 to me.

#1 blog platfrom, well, since v4 at least.
war593122 reviewed v4.01 Beta 2 on Sep 5, 2007
More info on beta releases here:

http://www.movabletype.org/beta/
Diam0nd reviewed v4.01 Beta 2 on Sep 5, 2007
Best blogging platform, that ESPECIALLY goes for v4.
User61 reviewed v4.0 RC4 on Aug 8, 2007
I really hate the drop down menu with v4. The guy who designed it should be flogged.
dhry reviewed v4.0 RC2 on Aug 4, 2007
My wife registered this software some years back. She loved it. I hated it. It's painful to operate. The whole "rebuild pages" thing is ridiculous. After a while we both got jack of the thing and it sat without being updated on our website for maybe a year and a half. I checked out Wordpress a couple of months before my kid was born and LOVED it. We uninstalled MT and installed Wordpress to run a personal baby blog and haven't looked back - the interface is so much more straightforward and there are a LOT of plugins out there. MT isn't in the same league as WP. Do yourself a favour and don't bother with MT. However, SixApart haven't done too badly with http://www.vox.com - go get a free blog page there instead of installing this rubbish.
guru_v reviewed v4.0 Beta 6 on Jul 11, 2007
The online demo is as foreign looking as the 1st time I looked at Word Perfect for DOS. Also, trying to get information is far from easy.
Diam0nd reviewed v4.0 Beta 5 on Jul 7, 2007
Love the v4.