Publisher's Description
MozBackup is a simple utility for creating backups of Mozilla Firefox, Mozilla Thunderbird, SeaMonkey, Mozilla Suite and Netscape profiles. It allows you to backup and restore bookmarks, mail, contacts, history, extensions, cache, etc.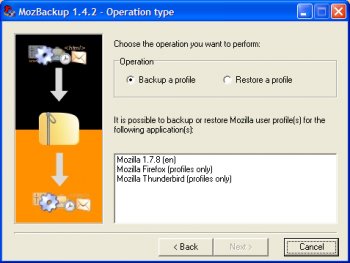 View Full-size
Latest Reviews
gatorfan95 reviewed v1.5.2 Beta 1 on May 12, 2012
Great little app.

@rogerz44 I dont believe you even tried it. I've been using if for several years and it has always worked perfectly for me
rogerz44 reviewed v1.5.2 Beta 1 on May 10, 2012
Piece of junk. I lost all my Thunderbird folders and messages when I tried to restore. Don' t think you're protected because you're not
some guy reviewed v1.5.2 Beta 1 on May 10, 2012
great stuff!
junkcatcher reviewed v1.5.1 on Apr 10, 2011
Very useful program but looking dated, to get best use of it customise its' .ini file.
I wish the .ini file offered more options to enable backup profiles to be pre-set up for non techie users.

Be aware it will only restore to the same version number of the Mozilla software that the backup was created from.

Somebody should create a Mozilla addon to do the same job in both Windows and Linux.
Kimoeagle reviewed v1.5.1 on Mar 31, 2011
I've been trying to contact this site for over a week now, without success.
The previous software is excellent. Is it THAT popular, or is there a technical problem?
Input Overload reviewed v1.5.1 on Mar 30, 2011
Nice program. most useful, works without problems.
some guy reviewed v1.5.1 on Mar 30, 2011
A must have ! would love to see a Linux version :)
kstev99 reviewed v1.5 Beta 1 on Mar 12, 2011
I use this this program quite a lot. Makes perfect backups of your profile including preferences, bookmarks, extensions. Very easy to restore when setting up a new computer. Excellent Program!
Vimes reviewed v1.5 Beta 1 on Mar 10, 2011
Excellent and most useful
evolution76 reviewed v1.4.10 on Dec 14, 2009
It does what it says....good program