Other Versions
Publisher's Description
Mozilla Thunderbird is a redesign of the Mozilla mail component. The goal is to produce a cross platform stand alone mail application using the XUL user interface language. The intended customer is someone who uses Mozilla Firefox (or another stand alone browser) as their primary browser and wants a mail client based on mozilla that "plays nice" with the browser.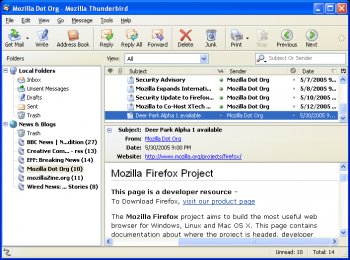 View Full-size
Latest Reviews
EndlessFall reviewed v56.0 Beta 1 on Aug 7, 2017
Always download from the official repository for the latest builds.
Monkey_Punch reviewed v56.0 Beta 1 on Aug 7, 2017
Wait for them to fix lightning.
Monkey_Punch reviewed v52.0 Beta 4 on Mar 14, 2017
v52.0 is the shot in the arm this app needed. So much faster than 45.x series. Running the latest SQLite 3.17.0 version to reduce CPU usage, compiled by VS2015U3, gobs of bug fixes and performance improvements. Nothing will help you if your Inbox has 10 million messages though. You can't fix stupid.
some guy reviewed v38.0 Beta 6 on Jun 12, 2015
great email client but to block a email is more work then it needs to be, how about right click on message and have the option to delete/block all from sender !
Monkey_Punch reviewed v38.0 Beta 6 on May 26, 2015
Testing 38.0 beta6 build 2. Much faster than 33 and all the autofill issues I had are gone. Nice that they bundled Lightning Calendaring into Thunderbird finally.
Monkey_Punch reviewed v33.0 Beta 1 on Sep 23, 2014
Fixed some of the annoying bugs related to autofill and autocomplete, but not all of them. Still needs some fixing but coming along ok.
egg83 reviewed v24.0 Beta 1 on Aug 15, 2013
Ok, am not sure what changes have been implemented with this release, but as long as it still works, and I know where everything is at, fine with me.
Aegis69 reviewed v21.0 Beta 1 on Apr 10, 2013
21...?? I thought they were stopping Thunderbird at 17.
Music4Ever reviewed v19.0 Beta 1 on Jan 20, 2013
Yet another version, I'm really glad all my software don't go into beta & a new final every month as I would have little time to use my PC's - Good client but stupid update system. So 5 stars for the program 1 for the beta's ~
Aegis69 reviewed v17.0 Beta 3 on Nov 13, 2012
Just make the next update to version 500, then you will be hundreds of iterations ahead of all your rivals Mozilla!. Then stop effing updating the version number ever week, its annoying!!