File Details

File Size
12.6 MB
License
Open Source
Operating System
Linux
Date Added
April 20, 2006
Total Downloads
10,255
Publisher
The Mozilla Organization
Homepage
Mozilla
Other Versions
Publisher's Description
Mozilla is an open-source Web browser, designed for standards compliance, performance and portability. Mozilla is a cousin to Netscape Communicator that is being developed by the Free Software Community with the cooperation and support of Netscape.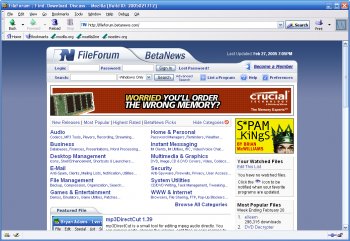 View Full-size
Latest Reviews
robmanic44 reviewed v1.8 Alpha 3 on Sep 23, 2004
I've never been a big Mozilla fan, but this thing is fantastic. With the theme cofiguration I did, I now have one of the most beautiful browsers on the net. It is rapidly becoming more flexible than even Opera and I really like Opera.
goFurShELF reviewed v1.6 Alpha on Nov 10, 2003
like netscape (of course) boasts good interface and much prettier than IE, but doesn't handle some applets/scripts well...not all bad.
Worth downloading
jrepin reviewed v1.6 Alpha on Nov 1, 2003
Still the best internet suite. The new fetures in mail are very nice. Especialy deleting mail from POP servers after x days. I was waiting for that an now it is here. Awsome.
defcon5 reviewed v1.5 RC2 on Sep 27, 2003
Mozilla is a fine Linux browser, coming prepackaged with most Linux distros. Still, I'm reserving my 5 stars for the final version of Mozilla's Firebird (http://ftp.mozilla.org/pub/firebird)
It's faster and slicker than Mozilla, with a few bugs to work out (version .61). BTW, there's no need to bash Micro$oft's IE. They don't make a browser for UNIX/Linux, and since that's my OS of choice why worry about something that's of no consequence (at least to me).
scratch311 reviewed v1.4 Final on Jul 1, 2003
ie is bloated in that it takes up so much hard drive space.
jrepin reviewed v1.4 Final on Jul 1, 2003
Excellent jone once again. Thank you for the best browser there is on both Linux and Windows. It is a must have!
trapanator reviewed v1.4 Final on Jul 1, 2003
Excellent!
Anacific reviewed v1.4 Final on Jun 30, 2003
Ahahahah, it's cute when people call IE bloated. Bloated how? Like a clown? Does it browse funny? . .. .
finalcut reviewed v1.3 Beta on Feb 11, 2003
bloated?? wtf? are you senile or only hate microsoft
because IE is a very fast and good browser..

mozilla will be very good..
trapanator reviewed v1.3 Beta on Feb 11, 2003
One of the best browseres of all times, MUCH better than ugly and bloated Internet Explorer!