File Details

File Size
11.2 MB
License
Open Source
Operating System
Windows 2000/9x/Server 2003/XP
Date Added
April 20, 2006
Total Downloads
89,329
Publisher
The Mozilla Organization
Homepage
Mozilla
Other Versions
Publisher's Description
Mozilla is an open-source Web browser, designed for standards compliance, performance and portability. Mozilla is a cousin to Netscape Communicator that is being developed by the Free Software Community with the cooperation and support of Netscape.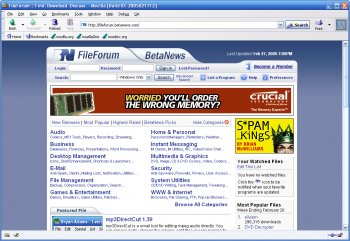 View Full-size
Latest Reviews
Sven123456789 reviewed v1.7.13 on Apr 16, 2007
Was my favorite browser at the time. Seamonkey is the next line after this version of Mozilla. Not much has changed since this version except the security updates in Seamonkey, and the menu bar changes color in secure sites. Somehow i miss the Mozilla name. Never liked Seamonkey, though i use it allot. In anycase, if your out there and like to experiment with old software, give this a shot and see what the best browser was back in the day.
Browser12 reviewed v1.7.13 on Apr 21, 2006
Zridling, Why put a neg. review Like this. Its a only a security update. If u liked 1.7.12, u will like this. As for the rest of my review. Its still the best browser in my opinion. Seamonkey 1.01 still renders allot of webpages in wrong manner for me. Plus my fav. theme- Nautipolis only works with Mozilla, Including 1.7.13. Opera is a cluttered mess in my opionion, just like Netscape, my former favorite browser. IE is ok, does the job, but if the 7.0 is any indication, its going the way of the Opera-Netscape. Plus i always liked the email client with Mozilla. Thunderbird doesnt give u the bcc option or an easy way to choose your email clients like the Mozilla email client. Keep up the updates group. People like myself still use this.
zridling reviewed v1.7.13 on Apr 20, 2006
Tired of Mozilla's unceasing [dangerous] crap thrown at its users, and I'm moving on for good. I guess building a better browser wasn't as easy as they told us. Buh-bye!
seier reviewed v1.7.13 on Apr 20, 2006
Mozilla is indeed a terrific browser, but I too have already switched to Sea Monkey and like it better. it also looks like Intel Mac OSX users should stick to Sea Monkey as well.
ecarlson reviewed v1.7.13 on Apr 20, 2006
Mozilla 1.7.x was fine, but now that the new version - Seamonkey - is out, and is working fine for me in Windows 2000 & XP, and has a few added and useful features, I don't have a reason to go back to the older 1.7.x version of the Mozilla suite.

- Eric, http://www.InvisibleRobot.com/
goalla reviewed v1.7.12 on Sep 22, 2005
I started using mozilla some 5 months back,I like it very much in many aspects like Tabbed browsing,Easy downloadability,the search engines available at the right end,Security and more over the way it diaplays data.

Only thing I expect improvement is custmizability of tool bars.In that aspect IE and Opera are ahead.
Rajesh Goalla
http://netizensnest.blogspot.com
maraskus reviewed v1.7.11 on Aug 2, 2005
It's a great browser, for me, much good than FireFox, in memory management, in speed , in simplicity.
Security es very good, and the front-end nice.

It's a great Opera Challenger
seier reviewed v1.7.11 on Aug 1, 2005
Hi Gang,
For those of you that didn't read the changelog there's no point to this release unless you utilize their e-mail reader. I've always preferred outlook express.
Cheers,
Christian Blackburn
gchenry reviewed v1.7.11 on Jul 31, 2005
The changes for Mozilla 1.7.11 can be found at
http://www.mozilla.org/r...zilla1.7.11/README.html

Although Mozilla will never make 1.8 SeaMonkey will take its place
http://wiki.mozilla.org/SeaMonkey:Home_Page

http://www.mozilla.org/projects/intl/beta1.html
fxt107 reviewed v1.7.11 on Jul 30, 2005
This is what I want - but I want the AIM sidebar integrated.

Will they ever do this?