File Details

File Size
0.6 MB
License
Freeware
Operating System
Windows 2000/9x/Server 2003/XP
Date Added
May 21, 2012
Total Downloads
62,618
Publisher
MVKTech
Homepage
NVIDIA BIOS Editor (NiBiTor)
Publisher's Description
NVIDIA BIOS Editor (NiBiTor) is the original and definitive BIOS tweaker that supports the latest NVIDIA graphics cards. It allows graphics card enthusiasts to have full control over advanced features and functionality found on firmware on supporting cards. This to gain some extra performance, enable hidden features and extra stability on the NVIDIA graphics cards.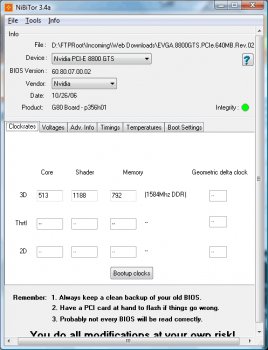 View Full-size
Latest Reviews
westor reviewed v6.04 on Feb 23, 2012
Does not working on my Windows 7 64-bit "Cant start driver: 1275"
anomoly reviewed v6.0 on Jan 26, 2011
Can't read my 8400gs card
war593122 reviewed v5.9 on Dec 3, 2010
"Can not start driver" on Win7 x64. :(

Should not have to disable driver enforcement. Sign the damn thing already. :p
marty reviewed v5.9 on Dec 3, 2010
I have to rate this a 1 since Firefox 4.0 reports the ssite to have malware - says lthey lhave been notified. Not worth lthe chance even with substantial lprotaection
Aberlour666 reviewed v4.7 on Jan 2, 2009
It works under Vista64.
Start with F8 - "Disable Driver Signature Enforcement".
Then start Nibitor as admin.
frodo888 reviewed v3.7 on Dec 27, 2007
Not working properly on Windows Vista 64Bit. As an user the program can not connect to the device manager and as an administrator it can not start the driver "nibitor.sys". Windows Defender always is poping up asking to confirm the new driver. But this is not helping. So I can't give a good vote...
poeg reviewed v3.5 on Sep 6, 2007
The savior of many a heat damaged 6800GT.
horsecharles reviewed v3.5 on Sep 5, 2007
Deduction for how hard to find the file for download, for not having dedicated web page.
Argai reviewed v3.4a on May 13, 2007
I am currently not using NiBiTor anymore, but I've used it couple of years ago.

BTW:

Changes in this Version:
Added Support for GeForce 8800 Ultra PCI-E
Added Support for GeForce 7900 GS AGP
Added Support for GeForce Go 7600 PCI-E
fatray reviewed v3.4a on May 12, 2007
My passively cooled 7100GS was clocked at 350mhz, added a nice Zalmen VGA heatsink fan. Now it's clocked at 450mhz and perfectly stable. Might try for more later. Couldn't get close to that with software overclocking. If my PC ever gets stolen, the person will always be reminded that it's my PC. The first message that pops up on at system start is my name, address and phone number thanks to NiBitor.
What NiBiTor needs is some way to make an ISO image of the bootup floppy you need to burn the BIOS into the card. Why not make it even easier then it already is?