File Details

File Size
40.3 MB
License
Freeware
Operating System
Windows Vista/XP
Date Added
November 6, 2007
Total Downloads
33,011
Publisher
NVIDIA Corp.
Homepage
NVIDIA nTune
Publisher's Description
NVIDIA nTune is the ultimate utility for accessing, monitoring, and adjusting your system components, including temperature and voltages with clear, user-friendly control panels. Overclock your system for highest performance or underclock it for near silent operation. All changes are performed within the Microsoft Windows interface â?? enabling full functionality without the need to make changes in the BIOS and reboot your system.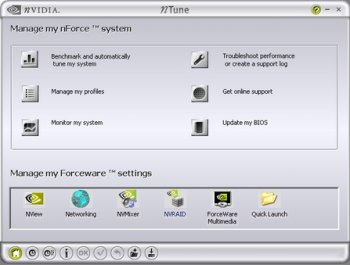 View Full-size
Latest Reviews
blahman2005 reviewed v5.05.54.00 on Nov 6, 2007
My BIOS does not support overclocking my dual core processor. I have tried *ALL* other software to overclock it. Nothing works with it except this software. It allows me to overclock my cores from 2Ghz to 2.5Ghz, causing a significant boost in performance which is very useful for me.
Dsfargeg reviewed v5.05.47.00 on Jul 15, 2007
This is utter crap.
It didn't make my PC faster, in the very opposite! Startup e.g. took a huge deal longer with this installed.

Don't use this crap, use RivaTuner or similar apps which not only have a lot more functionality, but also don't bog your system down.
smarterthanyou reviewed v5.05.47.00 on Jul 13, 2007
Very horrible program. Even though it is very successful at making your computer run faster, nTune constantly nags you whenever it changes profiles automatically by popping up a warning message. This happens even when you tell nTune NOT to pop up a warning message.
_Shorty-dammit reviewed v5.05.47.00 on Jul 13, 2007
http://www.nvidia.com/object/ntune_5.05.47.00.html
Supported OSes:
Windows XP (32-bit),
Windows XP x64 Edition
Windows Vista (32-bit)
Windows Vista x64 Edition

Version: 5.05.47.00
Release Date: July 12, 2007
davidtb reviewed v5.05.47.00 on Jul 13, 2007
Did anyone notice on NVidia's page that VISTA is NOT mentioned.
mickrussom reviewed v5.05.47.00 on Jul 13, 2007
This app sucks. I wish the old control panel would come back. Splitting driver from this was dumb. mixing video card stuff with motherboard stuff is dumb. This application sucks so bad its even hard to setup simple temp monitoring. Riva Tuner. End.
photonboy reviewed v5.05.38.00 on May 1, 2007
*Beware of creating an unstable system, especially if you tweak your system too close to its maximum. If the background temperature goes up you might start crashing or corrupt data (depending on what you tweak.)

Since the video card is by far the most important hardware component to tweak, I wouldn't waste my time tweaking other components (and it takes a LONG time to do your system.) DX10 is going to be even MORE dependent on the video card (or LESS dependent on the CPU) so the extra Frames Per Second will come mostly towards an over-clocked video card.

Underclocking?
While GPU's and VRAM can be overclocked I'd like to see UNDERCLOCKING. This really needs to be hardware supported so it's not a fault of this software, but I'd like to point out here that in the future I hope to see GPU's, VRAM, CPU's and system RAM that all clock to ONLY the needed frequencies and voltages. Why should a video card use 100 Watts just to show a picture file. Let's all scream for LESS POWER.

Finally, I think NVIdia's headed in the right direction but you might wish to use another tweaking utility that just does your video card like "Rivatuner."
normr reviewed v5.05.38.00 on Apr 28, 2007
Is now uninstalled!
Cris3 reviewed v5.05.38.00 on Apr 27, 2007
I've been using this program for over a year and it works great with my ASUS motherboard and nVidia 7800 GT graphics card. I use the auto tune (fine tune) feature, set it going at night and its all finished when I get up in the morning. I save the settings and bingo it's done. That works for me.
ray56_32223 reviewed v5.05.38.00 on Apr 27, 2007
I have an asus MB with a nvidia 6600 and lots of their chips, it aborted everytime I tried to run it.