File Details

File Size
1.4 MB
License
Freeware
Operating System
Windows 2000/9x/Server 2003/XP
Date Added
August 8, 2007
Total Downloads
5,844
Publisher
D2Soft Technologies Inc.
Homepage
News Interceptor
Publisher's Description
News Interceptor allows you to keep up-to-date with all news on the Web. It supports all known syndication formats (RSS, Atom, RDF). With its unique technology powered by RSScache.com services, it's easy to find feeds that suite your interests.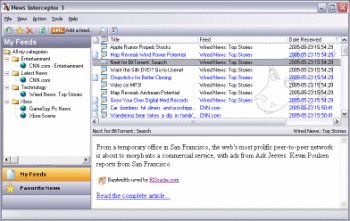 View Full-size
Latest Reviews
Tao2005 reviewed v3.02 on Aug 24, 2007
Ok. So I don't rate this one high enough for your standards. I do agree with what the guy below says. However, I dumped this program due to an RSS feed error. Evidently, the feed that I tried to get was unsupported by this program. Still that don't moch me for dis-ing the programmers on their effort for designing this program, or you the user for using it.

If they let me, I'd give the program a 9. Picking up feeds would be a 4. But this program is designed to pick up certain feeds, not all of them.
girts reviewed v3.0 on Jan 9, 2007
I am testing now. No bugs detected yet.
It seems to be great product.
Graphical user interface is excellent.
There is need some improvements, but in overall it is great.
Satansgeek reviewed v3.0 Beta 22 on Dec 1, 2006
@ Deadfly

Strangely enough I quit using JeT Brains Omea Reader just this week thanks to its many nasty bugs, frequent issues with database corruption and the lack of interest shown on the developer's forums in recent times. The development seems to be at a standstill and they haven't yet produced a new version of their extension to tie it in to Firefox v2.0...really you've made a very questionable choice.

I'm keen on the new generation of feed readers that are beginning to include filtering that matches the content shown from the feeds to the users interests and even helps find other suitable feeds based on those interests...this filtering is dynamic and is based on the user rating each article they read...sadly News Interceptor is not offering such functionality.

Out of interest have a look at Blogbridge for a good example of a more modern reader with filtering in place...and it's Java based making it cross platform rather than being tied to .NET. It also offers free synchronisation between computers via the developer's server so that you can keep a reader on one computer in step with a reader on another computer (home and work for instance.)

The reader shown here is OK as far as it goes but is limited to .NET and thus not portable and has a lack of the cutting edge features found elsewhere...average and nothing more.
Pantagruel reviewed v3.0 Beta 14 on May 5, 2006
Good,
I myself like newzcrawler, now thats an amazing news reader,give it a try as well
guti reviewed v3.0 Beta 10 on Oct 15, 2005
Nice overall.
But still prefer other free alternatives not .NET based.
ketchup_blade reviewed v3.0 Beta 7 on Jul 19, 2005
Since version 3, News Interceptor is now freeware, which is great! It's still beta, but they keep improving it often. I like the search feature to find interesting feeds. Keep on the good work!
utomo reviewed v2.0 Beta 4 on Sep 14, 2004
They need to improve this:
- reduce the needed of the server (which not so reliable), so user did not so much depend on that server.
- add keyword monitoring, and can email us for the result with working links.
robmanic44 reviewed v1.12 Beta on Feb 27, 2004
This is like an open invitation to access your desktop. If you'd like some security problems, help yourself. I would suggest that you get a good searchbot like Copernic Agent, you can then read any newspaper or other news source at your leisure.
Fats Terminal reviewed v1.08 on Sep 24, 2003
Go to dailyrotation.com and get the same for free. Betanews is featured there too!
CRYO9 reviewed v1.0 on Sep 13, 2002
now since they went to a fee based service, they have had ALOT of server downtime meaning no service. this is an excellent example of a usefull little FREEWARE program going down the tubes because the author got greedy thinking he could quit his day job.