File Details

File Size
38.2 MB
License
Freeware
Operating System
Windows 7/8/10/Vista/XP
Date Added
August 15, 2016
Total Downloads
10,874
Publisher
Nitro PDF, Inc.
Homepage
Nitro PDF Reader
Other Versions
Publisher's Description
Nitro PDF Reader lets you create PDF files, comment and review, save PDF forms, extract text and images, type text directly onto the page, and more. Start working with PDF files the way you always wanted.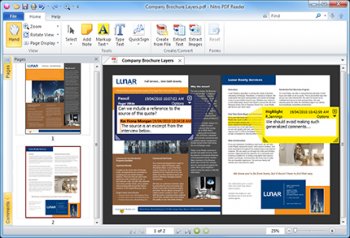 View Full-size
Latest Reviews
Alexander-GG reviewed v2.0 on Jul 24, 2011
Very nice reader/editor. Has nice and intuitive GUI. It doesn't install itself as a default PDF reader, as some one said below. You can simply uncheck the feature during installation. Besides, this is not a tragedy. Very nice for a free reader with some editing capabilities. Minus one star, cause it installs additional service, which you can disable from services.
smaragdus reviewed v2.0 on Jul 4, 2011
Slow, bloated, resource-intensive. The ribbon interface is ludicrous and abominable. Rendering images inside PDF files is not among the strongest points of this application. When Nitro PDF Reader is in full screen mode, a big and ugly message window appears to the right top corner reading 'Exit Full Screen' or something like that, which cannot be disabled and is so much distracting that makes reading in full screen mode impossible. This is another poorly designed and awfully bloated useless pdf reader.
olivi78 reviewed v1.4 on Mar 18, 2011
I tried Nitro. And I'm still stating with PDF-XChange: 1) Multi Language support for User Interface. 2) Very fast, most rich features and intelligible GUI (and I can customize user interface appearance to myself), smooth scrolling. 3) I can read/edit the PDFs with XFA form.
Hilbert reviewed v1.1.1.13 on Jul 28, 2010
The ribbon is ridiculous idea; it takes up far too much screen space. It really is so useless it has to be a 4-month late April fools' joke. It's designer ought to be fired.

[Yuh can even see the problem in the example image on this download page.]

Most PDFs are letter or A4 size so you need every bit of vertical screen resolution to make them easy to read. As it is, 1200 or 1050 is hardly enough resolution without the program grabbing large chunks of valuable screen real estate. Killing it or turning the ribbon off doesn't help either, as you need those functions whilst you're using the program.

I didn't try it on my netbook which has only 600 vertical resolution, with so little effective workspace it would essentially be impossible to use Nitro PDF Reader on such a machine.

I'm fed up with software that has terrible ergonomics, Nitro PDF Reader is just another instance. There's so much bad stuff around now, it's just chucked out w/o due care or consideration about how the user will use the product.

Clearly, those who designed it DO NOT use it!

Furthermore, the on-line uninstall survey is equally as dumb. It requires--err sorry forces--the user to answer every question even thought he might not have tried that function. Very stupid. Thus, 3/4ths way through I terminated it. (We really do need to start exposing the idiots who write such crappy code--on Wikileaks for instance.)

Instead of letting me vent my anger in the uninstall survey, these idiots have forced me to vent it here publicly for all to see. Cleaver PR eh?

Bloatware/Slow-ware Adobe has nothing to fear from Nitro PDF Reader I'm afraid. And it Looks like I'll still have to put up with a buggy Foxit for a little longer.
XeNdO reviewed v1.1.1.13 on Jul 10, 2010
first... the caveats... this proggie installs itself as the default PDF reader w/o asking! :( AND it installs itself as the default printer (virtual printer to PDF format) w/o asking! these are cheezy tricks to pull on noobs. BOO to Nitro for not being upfront with these options. next the review...
this program has a decent interface and some functionality beyond Adobe Reader. for daily use i *much* prefer Tracker Software's PDFXChange Viewer Free! Nitro has one important feature not included in the Tracker proggie. it allows to convert from other formats to PDF w/in the proggie. ( u can do this by using * doPDF * to 'print' other formats to PDF but, having this feature in the PDF reader is nice)
overall... i'm stayin' with * PDFXChange Viewer Free * for 1) interface, 2) ease-of-use, 3) functionality and 4) plug-in to view, edit and print PDF's w/in browser; but, i will keep this one for a while and evaluate better.
more caveats... personally, i dont like the 'ribbons'. i prefer drop-downs and buttons. also, the description states 'create pdf's' - this is not true. it converts other formats to PDF via a virtual printer; it does not create (make from scratch).
so this is misleading. this proggie will not even allow to add pages to an existing doc or to del pages. really very limited functionality.
NoOneImportant reviewed v1.1.1.13 on Jun 7, 2010
I have only used this a few times but already run into a show stopper. I downloaded a camera user manual that is apparently password protected. When I open with Nitro PDF, a large "COPY" sign appears on top of every page, making the document unreadable. There is no obvious way to disable this. I have not seen a software maker go to this much trouble to make their product unusable. I'm uninstalling nitro and going back to acrobat.
tom3311 reviewed v1.1.1.13 on May 27, 2010
Best of the freeware PDF creation/print programs I've used (have used most of the top-rated over the years)! What sets Nitro apart from the others are a couple of important things...first, you can do markups and save them, as well as "fill out forms in a .pdf file" which is actually overlaying text on a layer above the document...but it works! Also..you can use the program to extract text and/or graphics from a .pdf file. Only other program I've had that could do these things was Adobe Acrobat...but who can afford that program?!? Try it...think you'll like it!
AzureSky reviewed v1.1.1.13 on May 26, 2010
seems to workk quite well so far, little note for the genius complaining about the print driver, thats actually there so you can print to pdf files directly from any app.......bloody morons...acrobat and any other PDF editor/creator does the same thing....
zapatero reviewed v1.1.1.13 on May 26, 2010
The 64-bit version installs as a 32-bit program (Windows 7 x64 Home Premium). It installs a printer driver, which I don´t need, but I see no way to uninstall it separately from the main program. The images in some PDFs are very badly rendered, they are useless.
TheAngryPenguin reviewed v1.1.1.13 on May 25, 2010
Looks promising. Wish there was a portable version. Printing a PDF caused entire system to lock up to a point where forcing a power-cycle was the only option. Sticking with PDF-XChange Viewer for the time being...