File Details

File Size
129.9 MB
License
Shareware, $89.95
Operating System
Windows (All)
Date Added
September 30, 2020
Total Downloads
12,391
Publisher
MetaProducts Corp.
Homepage
Offline Explorer Pro
Publisher's Description
Offline Explorer Pro - download whole sites, online image galleries, forums and media streams from the widest variety of supported Web sites. The best ever support for the modern Internet technologies, Flash, scripts and active contents. Combine this with the flexible filtering, instant download queue monitoring and detailed log to get the universal download tool that serves all your Web spidering and datamining requests. Other features include scheduling and sequencing of your downloads, templates for most typical download tasks, downloading your favorite sites onto autorun CDs and DVDs.online database of Project settings shared by other users, easy-to-user Wizard, full-text search inside whole downloaded sites with the found keywords highlight, internal browser and editor, integration with other software, E-mail notification about download completion and much more.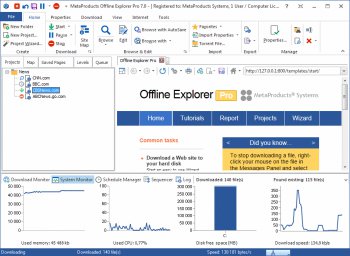 View Full-size
Latest Reviews
Ain Soph Aur reviewed v5.1.2820 SR1 on Aug 23, 2008
the best web site downloader
l2005 reviewed v5.1.2804 on Jul 18, 2008
Great software!
Demiur reviewed v5.1.2804 on Jul 18, 2008
The new 5.1 version looks really impressive. And work reliable. My rating is 5.
DoHickey reviewed v4.8.2628 on Aug 5, 2007
I uninstalled this, I have no use for this at all.... Yuk!
Ain Soph Aur reviewed v4.0.2298 Service Release 2 on Jan 2, 2006
The best download manager! Downloads everything...
dazran reviewed v4.0.2232 Beta 1 on Oct 25, 2005
Excellent!
zridling reviewed v3.9.2088 on Aug 5, 2005
Bloated, slow, complex, and overpriced.
Alla_a reviewed v3.8.2028 on Jun 9, 2005
I tried all these Teleports and BlackWidows, I think about ten programs. All they have problems in MAIN FUNCTIONALITY - they cannot download this or that site. Offline Explorer Pro works well on all tasks I give, and, in addition, it downloads streaming video and audio for me (teleport? - he-he...)
OE deserves this $70 and even more! (please do not show this my words to developers :-)

BTW, there is Offline Explorer Standard Edition which costs $30. Teleports's price starts from $39.95!!!
matal reviewed v3.8.2028 on Jun 2, 2005
i think it isn't the best program of its kind. The best one is Teleport Pro. I advise you to try this prog.
Inray reviewed v3.8.2028 on Jun 2, 2005
Offline Explorer Pro, is one of the most complete program of its kind. It has all the features of an offline website browser, and works fast and stable.

The problem with OE, is exactly what previous reviewer said. $70 plus version-update fees, for such an application is too much.

I really hope, OE's author will consider lowering this price and offer updates for free because this is a good program.
Until then i cannot recommend it.