File Details

File Size
2.1 MB
License
Shareware
Operating System
Windows (All)
Date Added
June 11, 2009
Total Downloads
2,956
Publisher
JlgSolera
Homepage
OnLineLive
Publisher's Description
OnLineLive is a live television channel database. No additional equipment required. It supports Windows Media Player and Real Player. You can play most stream formats in this program. You can set the screen window to any size that you want. It supports full-screen mode too.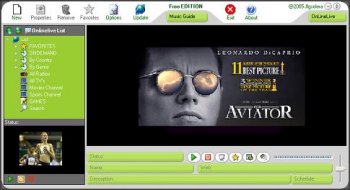 View Full-size
Latest Reviews
Zoroaster reviewed v6.3.43 on Nov 6, 2008
100% crap, they should be ashamed! I've got over half a dozen of excellent free similar programs. There's no secret to TV on Web, and those shareware providers are nothing but wise guys who dress up available links in a flashy skin. What a bunch of jokers!
DominiCC reviewed v6.3.40 on Jul 22, 2008
That's a wonderful program! I found here thousand of TV and Radio channels, movies, TV shows, cartoons, anime in English and other languages. I don't need something else for home entertainment.
Andrada1982 reviewed v6.3.38 on May 30, 2008
Not having satellite television my on line TV allows me to see at a very low price up to date films that are not even on DVD. The site allows me to add to my favourite channels and has a very comprehensive guide to search all the TV channels. It has a rapid response support help desk along with a lifetime of free updates. The site is always being updated with excellent films. It is well worth the money.
madcats reviewed v6.3.38 on May 20, 2008
It's limited because it won't update the channels or let you add your own internet t.v. links. This developer constantly revises the program, but once you pay for the old edition you are stuck with it. He catches a few "fish" like me when he puts out a revision every 3 months. So find a free internet t.v.program like JLC Software which will update to the latest online t.v. streams.
tickleonthetum reviewed v6.3.38 on May 20, 2008
SHAREWARE!

1850+ free online TV channels from 100 countries.
1500+ free online radio stations from 120 countries.

Risk-free, Try It For A Full 30 Days Or Get Your Money Back GUARANTEE!

Get the software. Install it. Use it for a full 30 Days. And if you feel I wasted your time and money, ask for your money back. Just return the software, and we'll issue a prompt refund. No hard feelings. No questions asked.

29.99 Buy Today for 24.99 And save 5 Euros

All the Movies and Adult Channels are only available if you pay!
PaulaK reviewed v6.3.31 on May 14, 2008
Great program, I love it! It has everything included in it.
BRBA reviewed v6.3.31 on Mar 12, 2008
Quick download. Lovely Interface. Works well. I like it what this program is doing.
TonyLo reviewed v6.3.31 on Feb 25, 2008
Easy of use, lot's of TV and radio channels, movies, TV shows, cartoons and anime. This program seems to have almost everything in entertainment domain. Even the music stored in my computer I can listen it using this player. Not bad at all.
AgnesT reviewed v6.3.31 on Jan 12, 2008
I tried the unregistered version; and decided it looked like one of the best players I have seen so far; and I've tried a lot. Thank you for the good software player.
AlexisMina reviewed v6.3.12 on Nov 21, 2007
OnlineLive is complete data base for watching TV and radio online. More, this is the only one that I found who has a large collection of movies that seems to be always updated. You have to try it to can find the qualities of they features.