File Details

File Size
12.6 MB
License
Freeware
Operating System
FreeBSD
Date Added
February 5, 2013
Total Downloads
4,140
Publisher
Opera Software
Homepage
Opera
Other Versions
Publisher's Description
Opera Web browser offers the best internet browsing experience available. Discover what over 20 million people have already experienced by downloading Opera's fast and safe internet browsers. Features include Speed Dial, Search Shortcuts, and Trash Can.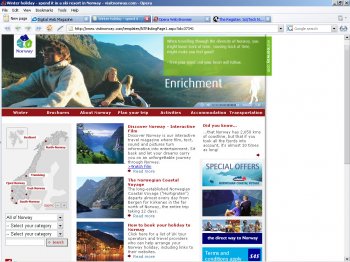 View Full-size
Latest Reviews
KateChopin reviewed v11.11 on Jun 28, 2011
This is the older version of Opera, today the version 11.5 is introduces, Why not talk about that..
It gives more display space to work with
Allows extensions and plugins
Opera has now introduced Opera 11.5 for Windows and Mac, so go to download your version now http://www.kaawish.com/2...era-11-5-as-web-browser/
TGB72 reviewed v10.10 on Nov 26, 2009
I always liked Opera as browser but I'm not interested in widgets, "opera links" and even less in "unite".
Since this version my firewall is constantly asking for multicast to 239.0.0.x and 224.0.0.x (even with all those new additional features disabled)
I wish there was a light version of Opera, just the browser. It would be perfect, not all users want an all in one solution.
Virtual_ManPL reviewed v10.0 Build 4102 Alpha 1 on Aug 25, 2009
Whrers landed Carakan ? I want speed, which is Opera now lacking, because is faster only in IE now...
not only unuseful for me gadgets like Turbo & Unite...
Aegis69 reviewed v10.0 Build 4102 Alpha 1 on Jun 25, 2009
BSD? Nice to see them supporting other OS's, browser is still slow as hell and a huge memory hog.
Betachecker reviewed v10.0 Build 4102 Alpha 1 on Jun 19, 2009
Very nice but there´s something wrong with all arrows on drop down menus
Chocobito reviewed v10.0 Build 4102 Alpha 1 on May 23, 2009
improvelence, the worst fanboy over the earth.

Opera simply the BEST!
zridling reviewed v9.61 on Oct 21, 2008
Powerful. Stable. Fast. Highly customizable. And doesn't crash. How do you beat that!
aruprc reviewed v9.52 on Aug 21, 2008
Looks like FF fanboyz is trolling all the Opera posts at File Forum. Well like it or not, with all its quirks, this is the best, securest ( as per secunia ), fastest and best interface browser out there period.
guti reviewed v9.50 Build 1633 Alpha on May 26, 2008
Amazing.
improvelence reviewed v9.50 Build 1633 Alpha on Apr 25, 2008
Overall, the worst browser.