File Details

File Size
5.3 MB
License
Shareware, $12.99
Operating System
Windows (All)
Date Added
January 11, 2021
Total Downloads
6,552
Publisher
PGWARE
Homepage
PCMedik
Publisher's Description
PcMedik is a tool for all which modifies your computer settings to prevent crashes and optimize performance. Works with all major computer and computer processor manufacturers. Want to increase the performance of that old computer without paying thousands of dollars? Tired of your computer crashing? Try thistoday and see how your computer's performance increases greatly and how Windows will crash less often.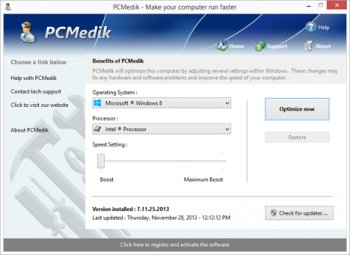 View Full-size
Latest Reviews
DIRKES reviewed v6.12.25.2006 on Dec 27, 2006
USeless software without a function; i test it again on my newer PC.
Neither the Internet or the PC became noticeably faster, it change ONLY a few registry entries. But for only this you can download FREEWARE-Tool and not 'PCMedik'. They guys want make money, but this software is a fake !!
roj reviewed v6.4.24.2006 on Apr 26, 2006
PGWARE:

You people still have the cojones to post this crap here?

Guess you don't learn easily - neither does BetaNews.

ONE star for a a tipoff "product".
KOLE89 reviewed v6.10.3.2005 on Oct 4, 2005
s***²
huppel reviewed v6.9.5.2005 on Sep 6, 2005
Why would I need this software ?
My Windows XP never craches !!
eventhorizon reviewed v6.8.8.2005 on Aug 14, 2005
You know something's wrong if you have to select the type of operating system you use within the program lol
Dirk van Hoofen reviewed v6.8.8.2005 on Aug 9, 2005
Same lame functions. It wrote only a few entries into the data base (Registry). The PC does not become provable thereby faster or better.
Bachalor reviewed v6.8.1.2005 on Aug 2, 2005
Software fake? - Same like all other PGWARE Software "Tools".
Dirk van Hoofen reviewed v6.8.1.2005 on Aug 2, 2005
works this software really?? I detect nothing after the "repair" function. I think, this software is a "dummy".
martu reviewed v6.8.1.2005 on Aug 2, 2005
THIEVES!!!
DIRKES reviewed v6.5.30.2005 on Jun 1, 2005
If you work with it, you see nothing.
The software don't show, what was changed in the system now. Maybe, it make nothing - it remove only the money from you pocket ;-))