File Details

File Size
5.0 MB
License
Freeware
Operating System
Windows (All)
Date Added
March 2, 2015
Total Downloads
52,026
Publisher
Antonio Da Cruz
Homepage
PhotoFiltre
Publisher's Description
PhotoFiltre is a complete image retouching program. It allows you to do simple or advanced adjustments to an image and apply a vast range of filters on it. It is simple and intuitive to use, and has an easy learning curve. The toolbar, giving you access to the standard filters with just a few clicks, gives it a robust look.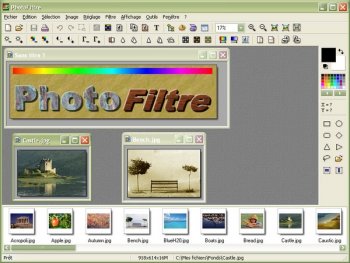 View Full-size
Latest Reviews
bobad reviewed v6.5.1 on Nov 30, 2010
Excellent graphics editor. Does 90% of what PhotoShop does at 10% of the program size. Extra point for being a no install portable program. I almost took a point off for the TWAIN interface not playing nice with Win 7 X64, but was able to run it successfully as an XP app. I hope it will be made fully compatible soon. 1/2 point off, still a great program!
Skyfrog reviewed v6.3.2 on Feb 9, 2009
This is an excellent replacement for Windows Paint. So many more features and yet it starts up just as fast.
mancubs reviewed v6.3.2 on Nov 2, 2008
i am runing coral x2 pro it is very good ,but have just tried this ,i would say photo filter is well; on its way to match this fair play to the programer
uberfly reviewed v6.3.2 on Oct 30, 2008
Rock solid, amazingly well written and a pleasure to use. 6 stars. Studio is also well worth the money.
zridling reviewed v6.3.1 on Jan 15, 2008
Nice, but Brian, much of the development has gone into Photofiltre Studio, where all the new goodies can be found.
Brian49 reviewed v6.3.1 on Jan 14, 2008
Nice to see a little bit of development happening again, after a longish period when I thought the author had given up on this freeware version in favour of the shareware one (PhotoFiltre Studio).
horsecharles reviewed v6.3.0 on Jan 3, 2008
XOX XOX XOX smack, slurp.
pforbes reviewed v6.3.0 on Jan 2, 2008
Love at first sight. Excellent.
Vetta reviewed v6.3.0 on Jan 2, 2008
What a fine program -- for free. I truly wish it would be available for my Mac as well as my Windows computers.

It does what it claims to do, and very well. It's actually fun to use.
bigmama reviewed v6.2.7 on May 2, 2007
great free small easy image-processing tool

powerful with many filters and tools

(some bugs during opening of some filetypes - i think they have solved and closed in the last version)