File Details

File Size
8.5 MB
License
Open Source
Operating System
Unix
Date Added
October 15, 2021
Total Downloads
5,891
Publisher
Gaim team
Homepage
Pidgin
Other Versions
Publisher's Description
Pidgin is a chat program which lets you log into accounts on multiple chat networks simultaneously. This means that you can be chatting with friends on XMPP and sitting in an IRC channel at the same time. It is compatible with the following chat networks out of the box: Jabber/XMPP, Bonjour, Gadu-Gadu, IRC, Novell GroupWise Messenger, Lotus Sametime, SILC, SIMPLE, and Zephyr. It can support many more with plugins.
Pidgin supports many features of these chat networks, such as file transfers, away messages, buddy icons, custom smileys, and typing notifications. Numerous plugins also extend Pidgin's functionality above and beyond the standard features.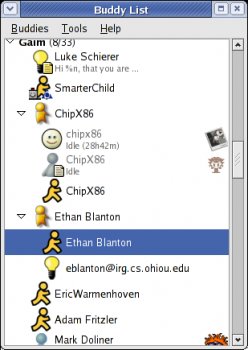 View Full-size
Latest Reviews
Frostek reviewed v2.5.3 on Jan 14, 2009
2.5.4 is out...
adamlau reviewed v2.4.0 on Dec 6, 2008
Now at 2.5.2. Simple, uncluttered interface. Three out of five for continuing difficulties establishing connections to Yahoo! IM.
Frostek reviewed v2.4.0 on May 21, 2008
Current version is now 2.5.1 - the updates on this page seem to have fallen behind for a while...
sjc001 reviewed v2.4.0 on Apr 1, 2008
The download is only for Fedora.
sx66gns reviewed v2.3.1 on Dec 10, 2007
Simply the best.
nDray reviewed v2.0.0 Beta 6 on Apr 30, 2007
This client is the best available these days, even for windows users.... Miranda IM can be more customizable and have much more available configurations, optiosn, features, but it's only for people who have time to spend with it....

Pidgin is the open source choice for IM's... ;)

(using 2.0.0b7)
Richardky reviewed v2.0.0 Beta 6 on Feb 15, 2007
great for just standard chat but i need a client that can conference .. voice chat and cam .. developers of all should catch up as where being forced to live in the stone age as far as msging
Frostek reviewed v2.0.0 Beta 3.1 on Oct 19, 2006
Does everything that I require from an instant messaging program.
hines reviewed v2.0.0 Beta 2 on Jan 25, 2006
gaim is really awkward, Like all of the other aim cilents.
dirtyangel reviewed v1.5.0 on Dec 18, 2005
This is the de-facto standard application for IM in a Linux/Unix environment. Simply the best. Great features, many plugins avalible and much more. Keep an eye out for 2.0.0! It's gonna rock