File Details

File Size
34.2 MB
License
Open Source
Operating System
Windows (All)
Date Added
January 1, 2023
Total Downloads
86,763
Publisher
Gaim team
Homepage
Pidgin
Other Versions
Publisher's Description
Pidgin is a chat program which lets you log into accounts on multiple chat networks simultaneously. This means that you can be chatting with friends on XMPP and sitting in an IRC channel at the same time. It is compatible with the following chat networks out of the box: Jabber/XMPP, Bonjour, Gadu-Gadu, IRC, Novell GroupWise Messenger, Lotus Sametime, SILC, SIMPLE, and Zephyr. It can support many more with plugins.
Pidgin supports many features of these chat networks, such as file transfers, away messages, buddy icons, custom smileys, and typing notifications. Numerous plugins also extend Pidgin's functionality above and beyond the standard features.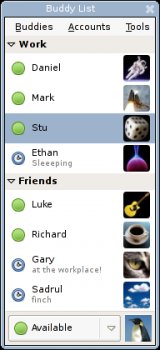 View Full-size
Latest Reviews
Sven123456789 reviewed v2.11.0 on Jun 21, 2016
Its ok. But somewhat obsolete. Yahoo and MSN msgr are kaput. Nobody uses aim or icq. But if for some reason you have some msgr services that this includes, its not bad.
-Lord- reviewed v2.10.5 on Jul 6, 2012
Pretty good. No adware here, simple interface, easy to use.
-1 because when I give anyone in my contact list nicknames, then next time I run the program, those names weren't saved... it reverts back to whatever it picks up.
Music4Ever reviewed v2.10.3 on Mar 27, 2012
Great messenger, the amounts of ads on MSN Live is getting stupid, using this is so much better. I also use the Unix version which works well.
exit reviewed v2.10.0 on Aug 22, 2011
Great IM no adds used it for years Is there a updated toaster that works with later builds
krakokainer reviewed v2.7.5 on Nov 2, 2010
Totally legit yo. Installed this and I was achatting it up with my homies and hos and it was all funk. Try it out and get it on muchachos
johnk119 reviewed v2.7.4 on Oct 22, 2010
I'm not so sure not compared to trillian astra it lacks in all ways
johnk119 reviewed v2.7.3 on Aug 23, 2010
this is the only instant messaging software that I use. Unless I require video chat at least... it's a shame it doesn't yet include video features, unless i'm missing something... It's still the ultimate as it doesn't include any adware
AutoBot reviewed v2.7.3 on Aug 11, 2010
Back to five stars. I wish they had an automated update routine that would only update the necessary components.
GadgetPig reviewed v2.7.3 on Aug 11, 2010
What can I say? I love pidgin! Some nifty plugins already included.

[Must have plugin for pidgin]

http://www.cypherpunks.ca/otr/

"Off-the-Record (OTR) Messaging allows you to have private conversations over instant messaging by providing:

Encryption
No one else can read your instant messages.
Authentication
You are assured the correspondent is who you think it is.
Deniability
The messages you send do not have digital signatures that are checkable by a third party. Anyone can forge messages after a conversation to make them look like they came from you. However, during a conversation, your correspondent is assured the messages he sees are authentic and unmodified.
Perfect forward secrecy
If you lose control of your private keys, no previous conversation is compromised."
AutoBot reviewed v2.6.6 on Apr 16, 2010
Pidgin is great, it's feature rich, spell checks, nice amount of plugins, opensource, and crashes every single time my tethered PC loses connection.

Had to switch to something else until this issue is resolved. I suppose a bug report is in order.

Four stars until usable again.