Publisher's Description
This update is for customers who own the PSP (PlayStation Portable) model number PSP-1001 K. DO NOT update your PSP system through this Web site if you own a different model of the PSP system. There is no guarantee of proper operation with other models of the PSP system.
For installation instructions visit: http://www.us.playstation.com/PSP.aspx?id=softwareupdate/pc_200.html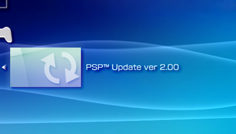 View Full-size
Latest Reviews
gerrman97 reviewed v5.03 on Sep 7, 2012
i have a psp 1000 with 6.60 pro c custom firmware and it is very good. one simple glitch with pro b is the theme color it has extra theme identifiers but not actually other colors otherwise it is the same
Blaxima reviewed v4.01 on Jul 2, 2008
No such thing as 5.52 so lay off the meds. There has been quite a few releases though that File Forum has missed.

This update was supposed to be a big jump for features and all we get is a lousy google search in the xmb when we could already just load it in the browser. Sony is really dropping the ball with the lack of support for this device. Game developers are loosing interest and if it wasn't for DAX's CFW and the homebrews I would have never got a PSP myself. I'm stickin with 3.90 (M33-3) because there is NO good reason to update to this firmware

Wonderful device, lousy support
Ciolouse reviewed v3.40 on Jul 29, 2007
Version 5.52 is out ...
rsx508 reviewed v3.40 on Apr 22, 2007
Still no WPA-2??? Not touching it. This is 2007. A wireless device should support WPA-2.
paulm reviewed v3.40 on Apr 22, 2007
I downloaded v3.40 and my PSP works as it did with the previous version. So I guess it gets a 5/5.
I would like to see some browser tweaks/improvements, and maybe the ability to stream audio/video by embedding a player that will stream content from the Web. But maybe the PSP architecture restricts this. Dunno. I won it in a comp/door prize, so not complaining.

Whats Homebrew? I used to drink the stuff.
Skizelli reviewed v3.40 on Apr 21, 2007
@Ray Dorset: People have every right to rate it a 1 if it's not living up to their needs as a customer. Calling people losers for doing so only shows your immaturity. Typical behavior of a fanboy. Sometimes people don't like what you like. Get used to it.
Ray Dorset reviewed v3.40 on Apr 21, 2007
What a sad bunch of losers all these people are, says alot of the type of vistor to Betanews, when they have to rate PSP firmware as 1* because some hacker made a hacked version.

Dark Alex is basically riding on the back of these firmware releases, using Sony code. If your rating of the official code is 1*, then so is his..

Wankers.
Diam0nd reviewed v3.40 on Apr 20, 2007
2 words: dark alex.
cap737 reviewed v3.30 on Apr 18, 2007
I agree with a lot of people on not using the PSP updates because they disable and lock out homebrew applications. I decided to search the Sony PSP forums to see what people are saying about these issues and have found some forums that have Open Editions of the firmwares. Surprisingly, they are still able to run HBs and downgrade their versions. I'm amazed that sony didn't shut out those threads. Just check them out because I'm going to try using these Open Edition firmwares to run my HBs.

http://boardsus.playstat...&message.id=2748114

http://boardsus.playstat...et&thread.id=121841
brusco reviewed v3.30 on Mar 29, 2007
It increasingly seems like the real reason for firmware updates is to crush the homebrew scene. I dont even use my PSP anymore as its just not fun to use. I'll be avoiding Sony products from now on.