File Details

File Size
1.0 MB
License
Freeware
Operating System
Windows 2000/9x/Server 2003/XP
Date Added
September 16, 2006
Total Downloads
19,885
Publisher
Renier Crause
Homepage
PopTray
Publisher's Description
PopTray can check up to 20 accounts with a different notification sound each. It lists the messages in a ListView with a quick preview function. Deleting unwanted messages is also possible. Rules allow you to play different notifications or delete messages according to text contained in the header.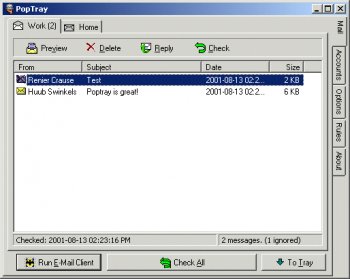 View Full-size
Latest Reviews
Mystiqq reviewed v3.2 on Sep 9, 2007
Same here. Been using it for years as well. Probably one of the "cleanest" interfaces ive seen. Hard to make it any better, it just works perfectly.
Vicconius reviewed v3.2 on Dec 20, 2006
Have been using this program for years and it's one of the few essential programs I can't live without. Gets installed immediately on any system of mine.
ninjeratu reviewed v3.2 on Dec 19, 2006
Still can't encode/decode UTF-8, KOI-8, 8859-* or any other "exotic" charsets. Even Popman can and Popman is almost as slick as PopTray (it's even possible to replace the icons) so I'll recommend that instead.
Too bad.
And 3.2 isn't beta, or even new. It was released 2006-09-16. Why did Betanews add it now?
Kipster reviewed v3.2 (Beta 5) RC1 on Sep 5, 2006
This used to be a five star program.
If you have 3.1 and like it, keep it.
3.2 is way bad, unless you like annoying pop-up error messages.
I realize this is a technically a beta.
But I checked their "support forum".
There are quite a few posts reporting the same error I keep getting at random (Socket Error 10054 connection reset by peer).

The offical response is "there's nothing wrong with the program, it's your connection".
It's hard to believe so many people suddenly have bad connections. Especially when this is the only program having errors.

This same error has been reported for at least four months now.

There's to many good free notifiers out there to put up with these annoyances. Pick a different one.
ninjeratu reviewed v3.1 on Mar 15, 2006
Actually the latest version is PopTray 3.2 (beta 4).

Anyway .. As a notifier it's does what it's supposed to do. Lots of options and tweaks and a polished look too. It'll even tell you the numer of unread mail directly on the systray icon if you want it to. I like it!

The mail client part can preview, sort and notify according to rules, delete spam and lots of other things. This should be a killer app, but ..

The "beta" Hotmail plugin is, well, beta.. No other webmail can be checked. I don't really care myself, but it should be included IMHO.

Far worse is the fact that the built-in mail client (preview and reply to messages directly on the server) can't encode/decode UTF-8, KOI-8, most 8859-* or any other "exotic" charsets. All the headers and bodies end up with a lot of garbage characters. Unfortunately support isn't planned either (not on the TODO-list). If you have to open your normal mail client to read and reply to message you don't really need the client part .. and thus the program is basically useless (except the very nice notifier part).

An mail notifier AND client that 3/4 of the emailing world can't seriously use isn't worth more than 3. Sorry. Fix the charset encode/decode or release a notifier-only version and I'll give it a 5.

Since it's only really usable as a notifier I think I'll change back to IMAP Notify (835Kb including installer), even though that program is seven years old and not as feature rich.
_Ender_ reviewed v3.1 on Mar 25, 2005
I too have tried other pop3 notifiers and Poptray is not only the most functional and bug-free, but in my experience has the lowest RAM usage.
supadupafly666 reviewed v3.1 Beta 8 RC2 on Mar 5, 2005
this program is amazing
devilofadawg reviewed v3.1 Beta 8 RC2 on Dec 20, 2004
Very Useful and very Cool.
DigitalSin reviewed v3.1 Beta 8 RC2 on Dec 20, 2004
Impressive. Does exactly what it should
brotherS reviewed v3.1 Beta 8 RC2 on Dec 20, 2004
I tried many tray notification tools, this REALLY is the best! Love how flexible it is, I use individual sounds and let the tray icon change the color if I receive an important mail. Great!