File Details

File Size
3.6 MB
License
Freeware
Operating System
Windows (All)
Date Added
December 20, 2013
Total Downloads
3,898
Publisher
Privacyware
Homepage
Privatefirewall
Publisher's Description
Privatefirewall is a personal firewall and intrusion detection application that eliminates unauthorized access to your PC. It also constantly monitors the sensitive areas of a PC where intrusion can occur and reports on their status allowing users to take appropriate action. It is easy to install/use and provides reliable and high-performance protection right "out of the box". Its intuitive interfaces allow advanced users to easily adjust default settings to create custom configurations.
FREE for personal and commercial use.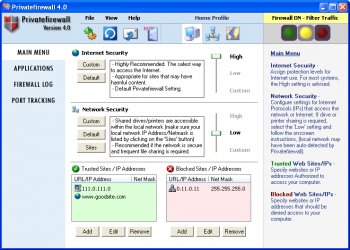 View Full-size
Latest Reviews
inkowyouknow reviewed v7.0.30.3 on Dec 22, 2013
Installed it on win8 64bit, works like a charm, simple - effective and does what it says
Cooledit reviewed v7.0.25.5 on Jan 2, 2013
Privatefirewall v7.0.28.1 got a really nice testing score at www.matousec.com
HeilNizar reviewed v7.0.23.4 on Apr 28, 2011
After trying so many, I find this one best.
Lite, objective and powerful, hopefully it will stay like that and not go bloated like most other softwares.
shallot reviewed v7.0.22.8 on Jan 6, 2011
What's wrong with the firewall in Windows 7 ?
u3912974 reviewed v7.0.22.8 on Jan 6, 2011
It seems to work on Windows 7 x64 but my only question is 'Is it better than Norton 360 version 4 's firewall?
Input Overload reviewed v7.0.22.8 on Jan 6, 2011
Actually JackRegan it's a very good firewall.A few friends have installed it without hassle, IMHO I recommend it.

JackRegan:- I must say your posts are most enlightening. Do you feel it lifts to to the dizzy heights of some kind of wise sage with your enigmatic pointless stupid posts that tell us nothing.
Vivek Kowshik reviewed v7.0.22.6 on Dec 12, 2010
The developer's website says it is compatible with Win Vista and 7, both 32 and 64 bit. Time to update this webpage guys.
ballyhairs reviewed v7.0.22.6 on Dec 11, 2010
Ugly, too ugly
I normally don't like bloated softwares with useless visual effects etc, but still, this is too ugly, it made me go back on pills mwahahaha
JackRegan reviewed v7.0.22.6 on Dec 10, 2010
Hoax
Input Overload reviewed v7.0.22.6 on Dec 10, 2010
Very nice program, excellent considering it's free. I recommend it to others & have had no complaints yet.