File Details

File Size
2.5 MB
License
Freeware
Operating System
Windows (All)
Date Added
June 20, 2016
Total Downloads
3,789
Publisher
Puran Software
Homepage
Puran Defrag
Publisher's Description
Puran Defrag is a very simple defragmentation utility which defrag the files that means it collect all the fragments of a file and puts them togather, this upgrades your hard disk performance and thus overall system speed. In addition it results in low wear and tear of hard disk and therefore increases its life.
Free for private and non-commercial use only.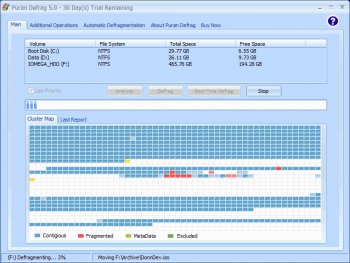 View Full-size
Latest Reviews
Assirius reviewed v7.7 on Nov 22, 2015
Not so bad ,
it's worth of a try.
Andy Dean reviewed v7.7 on Sep 10, 2013
When Puran Defrag was first released it was an excellent defrag utility.
However in the past couple of years it has started bundling toolbars with the install files.
Personally I've got no time for authors who do this. Originally was 4 stars but now downrated to 1 due to the bundled crapware.
some guy reviewed v7.7 on Sep 10, 2013
when deffragler failed on unit still was at 56% ran the Puran and it did the trick with the option to boot defrag
mfarmilo reviewed v7.6 on Feb 1, 2013
Excellent defragger that is now free. Just one gotcha - look out for the offer to install Babylon Toolbar during the installation (unless you actually want it of course). Apart from that little proviso (which I don't feel warrants subtracting a star), it does a very good job. One of the best I've seen, it includes the option to do a boot-time defrag which will defrag the pagefile if possible, and a scheduler.
Pkshadow reviewed v7.1 on Oct 4, 2012
This Review is for Puran and Puran Utilities.
Do not install if you plan to uninstall it as it leaves BS all over the place like in your System32 folder and files still run after being uninstalled.

Update Nov. 2012
Looking through my registry and there are keys left all over the place.
Never will I touch this crap again.
Bad coding for a uninstaller, SHAME ON YOU !

For leaving your crap behind instead of removing it in the uninstall it rates a -0
zandres reviewed v7.1 on May 13, 2011
This review is for Puran "Free' Defrag 7.3:
I did a 'boot time' defrag and found that ALL of my system restore points were erased. I am using Vista 32 bit Ultimate. Everything still seems to be working though.
Vivek Kowshik reviewed v7.1 on May 18, 2010
I have tried Puran Defrag on XP-SP3 and Win7 Home Premium on separate PCs. On both occasions I found that the defragger works OK as long as you don't select the boot time defrag PIOZR tech that they claim is their USP. This feature seems to corrupt certain files on the system.

On XP, I found I just could not boot up again, while on Win7, I was unable to connect to the internet through my LAN connector. On both occasions I was smart enough to maintain a backup disc image, which saved me from hours of redoing everything. Although the software gave some improvement over the results I got from other defraggers, I still feel that there is something they really need to do about these issues.
Sephiroth... reviewed v7.1 on May 18, 2010
Excellent freeware, I don't need anymore.
SmokingCat reviewed v7.1 on May 18, 2010
Free Boot Time Defrag!
Kudos for that.
Chocobito reviewed v7.1 on May 18, 2010
Incredible good defrag software, definitely the best freeware in his type.