File Details

File Size
9.8 MB
License
Open Source
Operating System
Windows 2000/9x/Server 2003/XP
Date Added
July 4, 2010
Total Downloads
6,173
Publisher
Open Source
Homepage
RSS Bandit
Publisher's Description
RSS Bandit is an Open source desktop news aggregator written in C#. Instances of the program can be synchronized using WebDAV, FTP or a file share. Single-click automatic discovery of RSS feeds. Ability to post comments to weblogs. Support for tabbed browsing using embedded Web browser. Support for password protected feeds using SSL & HTTP Authentication. Look of news items displayed in the feed pane can be customized using XSLT. Ability to flag items for followup. Ability to track related news items and displaying them in a threaded view akin to a mail or news reader.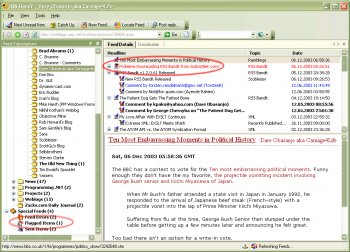 View Full-size
Latest Reviews
Standa.Holecek reviewed v1.8.0.870 on Nov 14, 2008
unstable version. Crashed on Windows Vista
anomoly reviewed v1.6.0.1 on Jan 7, 2008
OK. not bad with the css styles and what not but is not portable as is feedreader. IE, feedreader can run and does not leave files in the apdata folder. Size is smaller, and upon first opening you get a plethora of feed choices unlike this open source project.
JeremyGNJ reviewed v1.6.0.0 on Jan 2, 2008
Wow! I just found this program. I've been an avid user of FeedDemon for many years, but I like this much more.

Standard UI, great options, newsgroup reader....it's perfect for me!
anomoly reviewed v1.6.0.0 on Dec 30, 2007
Fix the use no proxy option. I use and run vidalia and no matter what you tell this it defaults to IE settings.
girts reviewed v1.6.0.0 on Dec 26, 2007
GreatNews still fastest RSS reader.
jafo818 reviewed v1.5.0.17b on Sep 21, 2007
Still my favorite RSS reader... Donated last year even when it wasn't being updated. :)
tangentlin reviewed v1.5.0.9 RC2 on Feb 20, 2007
RSSBandit is still my top of the choice for RSS reader, although I admit I have been searching for its replacement for a while. What I like about it the most is it aggregates all the unread items once you click at the feed or the category, this makes it very convenient for me to scroll those all the posts. I cannot do that easily with Outlook 2007 and OmegaReader.

What I dislike about RSSBandit is its Outlook interface, which hogs memory, and the interface would be dysfunctionally when I launch MS Money and do a few operations with it. As a UI designer for the past 8 years, I don't like fancy interface elements that have functions like the standard ones. Such eye-candy does not add much values, but it creates instability to the system.
rstat1 reviewed v1.3.0.42 on Dec 28, 2005
I like RSSBandit alot but doesn't come any where near beating FeedMonster.
ArabianNight reviewed v1.3.0.42 on Dec 28, 2005
Not bad, wTicker is much much better.
LordNikon reviewed v1.3.0.42 on Dec 28, 2005
I agree with zridling, AWEsome NewReader. :)