Publisher's Description
Radmin (Remote Administrator) is a remote control program which enables you to work on one or more remote computers from your own computer. It can be considered as complete remote control solution where all key features such as Remote Control, File Transfer, NT security, Telnet, and Multilanguage support are included.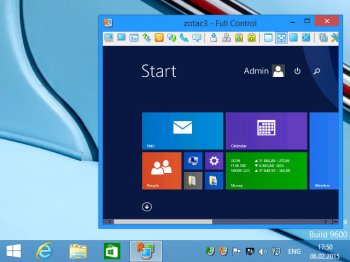 View Full-size
Latest Reviews
Diam0nd reviewed v3.5 on Dec 28, 2012
This product seems like a second job for its developer, but still this is the fastest (amazing speeds even on slowest of connections) remote admin program I've ever seen. VNC doesn't even come close, unfortunately.
CyberDoc999 reviewed v3.4 on Oct 15, 2009
The old free version works just fine !
Diam0nd reviewed v3.4 on Oct 15, 2009
Is Radmin the fastest remoting application on the market? YES.
Is the interface and complimentary features good? NO.

So if speed is all that matters to you (and for me it does), then go with Radmin. If speed is not an issue (eg: both server and client got fast enough lines), I would go with RealVNC. It has good speed, great interface, flexibility and features. And it even features both a x64 server and client.

But still, Radmin's speed is impressive. I wasn't able to go back to RealVNC after trying Radmin.
scorpio99 reviewed v3.3 on Feb 11, 2009
i tried symantec pcanywhere and it sucked for so many reasons.

mainly it's a resource hog and it froze all the time!

i searched and searched and downloaded demo after demo and RADMIN was such a relief because it was the best on all fronts by far! please save yourself the trouble and TRY RADMIN first I promise you will like it the best.

I feel so strongly that I took the time to write this. I am not affiliated with radmin or any software company in any way. Just try it seriously!
Diam0nd reviewed v3.3 on Nov 20, 2008
Fastest remoting application on the market. Not as usable as RealVNC though. So I'd say if you want speed - choose Radmin, if you want convinience and ease of use - RealVNC.
pluto2se reviewed v3.2 on Apr 26, 2008
It's aplain lie that vnc-anything woudl be faster than radmin. radmin is the fastest I've seen and tried, ever, period. It is expensive though and the license conditions are plain crap, for a home user with say 2 or 3 computers it's not worth the money by far. Apart from this, it's great!
EMkaEL reviewed v3.2 on Apr 25, 2008
yes, I've tried all the VNC clones.. they ALL suck!
Radmin is the best on EVERY level!
pluto2se reviewed v3.1 on Apr 11, 2008
The best when it comes to speed and cpu use, period.
Some minor improvements could be put into the program, also the coders where abit sloppy here and there in my point of view. Finally, the reason for the 4: it's WAY TO FRIGGIN EXPENSIVE! 49$ itself is a hefty price, but say you have a home network like me with 3 or 4 computers which you would like to be able to use remotely. You'll end up at enormous sums due to their crappy licensing methods. Also there is no working crack for 3.x yet which is surprising, are the crackers getting lazy? It would be nothing but fair that a crack was made when a company sucks this kind of money out of non-profit/home users.
uberfly reviewed v3.1 on Mar 6, 2008
Easily the best. Extremely stable. The smooth remote refresh is something to behold. Top notch software. Easily worth the $$.
greeblesnort reviewed v3.1 on Nov 5, 2007
Odd that after so many years of waiting for v3, we get 3.x in less than a year...

Anyway, radmin is a good tool, superior to VNC and possibly to Dameware (also good but commercial). The only thing really even close to it is the FreeNX stuff, which has far fewer features.