File Details

File Size
6.7 MB
License
Shareware, $19.95
Operating System
Windows 7/XP
Date Added
April 1, 2016
Total Downloads
15,993
Publisher
RaidenFTPD Team
Homepage
RaidenFTPD
Publisher's Description
RaidenFTPD allows you to set up your own FTP Server. It has the following features beside the fact that you can use it for free completely. It offers the highest security, outputs more than 100 megabit per second, various handy features, ease of use user interface, and a flexible configuration.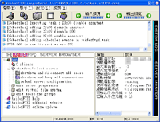 View Full-size
Latest Reviews
mikebratley reviewed v2.4.4000 on Mar 11, 2014
awesome
chrispaul reviewed v2.4.4000 on Feb 17, 2014
top notch
olivergiving reviewed v2.4.4000 on Sep 25, 2013
nice!
tomkelly reviewed v2.4.4000 on Aug 22, 2013
great program!
PostDeals reviewed v2.4.3680 on Dec 28, 2008
I use to use this 5 years ago and it was great back then and its GREAT now. It really has a lot of great functionality, its inexpensive and easy to use. I am glad they are still around and developing this it does a great job with very little OVERHEAD.
Diam0nd reviewed v2.4.3680 on Dec 26, 2008
Best ftpd for windows. Has built-in sfv checking, supports vfs, mode z and a ton more.

Version 2.4 build 3680
added: a new special group name 'isaserver', users in this group enable special server behavior to be compatible with microsoft isa server 2006
fixed: using filezilla to upload to server with multiple connections may cause server to crash if .raidenftpd.acl is enabled
boulderdrop reviewed v2.4.3600 on Apr 22, 2008
This is a good little FTP-Server, I've used it for the past couple years and it has all of the features you'd expect. Sadly, they are moving to an "Annual Pricing" structure in which you have to pay every year. No thank you!

I'll stick with BPFTP Server, I've used it for years and it's awesome. It's listed here on BetaNews.
Diam0nd reviewed v2.4.3501 on Jan 7, 2008
bugmenot: Name me one standard Raiden does not support?

This is the best FTPd server for windows. It has built-in stats script, sfv checker and TON more features that one does NOT need to install! Amazing server!

And lastly, those who say its crap did not try it.
PRoBiSoNe reviewed v2.4.3501 on Jan 7, 2008
I use this server heavily. It has all the functionality you could want from config to file access. I have used many other servers, from IIS to various third party apps. None compare to the reliability and availability of Raiden, bar none.

Forget the review below (May 07) ...probably running it on a WinMe box ;P
bugmenot reviewed v2.4.3405 on May 4, 2007
Worst ftp daemon ever. While this might be ok for home use, if you need professional level FTP services, look elsewhere (proftpd, g6, etc). This one is not user friendly at all, has a problem with servers running 30+ users (memory, disk usage, etc) and is not supportive of some of the latest ftp standards.