File Details

File Size
2.4 MB
License
Freeware
Operating System
Windows 7/8/10/Vista/XP
Date Added
December 24, 2022
Total Downloads
23,293
Publisher
RainmeterTeam
Homepage
Rainmeter
Publisher's Description
Rainmeter is a desktop customization platform. Through Rainmeter, you can enhance your Windows computer at home or work with skins: handy, compact applets which float freely on your desktop, much like Windows Sidebar gadgets, or dashboard widgets for the Mac.
Rainmeter skins provide you with useful information at a glance. It's easy to keep an eye on your system resources, like memory and battery power, or your online data streams, including email, RSS feeds, and weather forecasts. Many skins are even functional: they can record your notes and to-do lists, launch your favorite applications, and send your tweets to Twitter - all in a clean, unobtrusive interface that you can rearrange and customize to your liking.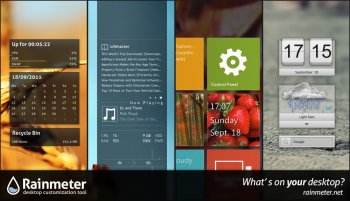 View Full-size
Latest Reviews
barrytbutler reviewed v3.1 r2218 Beta on Jan 29, 2014
rainmeter is still awesome. have been using it for a few months now and just love it!
humbleuser reviewed v3.0 r1950 Beta on Jun 11, 2013
I would like to rate this higher but please, please tell us up front that the program is a lot bigger and that the installer will download a heck of a lot more that the 1.3mb. I vote for more honesty on the web.
Music4Ever reviewed v2.5 r1761 Beta on Jan 16, 2013
Been playing around with this & I like it, lots to mess around with, even better it's free! - But as my keyboard isn't waterproof it wrecked it , also flooded my PC room out so beware!
timmeh reviewed v2.4 r1634 Beta on Oct 1, 2012
I've been using rainmeter for quite a while now. Besides the eyecandy you can really boost your productivity especially by using skin packages like Enigma. It allows you to fetch RSS feeds to your desktop, set up calendar events and other clever tasks. This is my current rainmeter desktop http://ratemydesktop.org...S/Rainmeter_Enigma.html Rainmeter has come a long way since it was first released.
Blaxima reviewed v2.3 r1259 Beta on Mar 20, 2012
Well I figured out what the problem was. They've made anti-aliasing an option on images now, not just fonts. That essential spoils older skins and is a rather odd thing to do.

Oh well, I made a new skin and all is well
Blaxima reviewed v2.3 r1172 Beta on Feb 13, 2012
Been using this for awhile with no problems until now. The icons in the theme I'm using have become jagged. Reverted back and they look normal again
XhmikosR reviewed v2.2r1078 Beta on Dec 14, 2011
@HeilNizar:
Rainmeter is open source. Try the following build which doesn't need any MSVC runtime installed: http://www.multiupload.com/RL165OUYWF

virustotal doesn't load for me so feel free to scan the file yourself, but it's a vanilla build from the svn trunk (with some project file related changes which shouldn't have any effect)
HeilNizar reviewed v2.2r1071 Beta on Nov 29, 2011
Very nice and FREE, I wished it was completely portable without depending on c++ redistributable package.
xingyi reviewed v2.2r1050 Beta on Nov 23, 2011
very good
Rebell reviewed v2.1 r953 Beta on Sep 19, 2011
Cool free theme tool :D