File Details

File Size
2.4 MB
License
Shareware, $29.95
Operating System
Windows (All)
Date Added
July 7, 2008
Total Downloads
46,326
Publisher
ReGet Software
Homepage
ReGet Deluxe
Publisher's Description
ReGet Deluxe is the new generation of the ReGet Download Manager. If you ever download something from the Internet, you can do it better with this program. If you have a fast connection, it will take advantage of it and retrieve files faster. If you have problems downloading files, it will make sure your download is successful. You can also fetch whole servers. The more you download, the more you will find it useful. Unlike regular browsers and other download managers, it provides all the information about all downloads (status, progress bar, error messages) in a single window, providing consistent user interface. Its interface is reproduced in many different languages so you may receive all the information in your native language.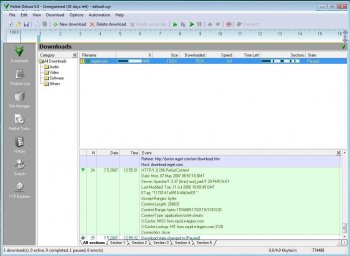 View Full-size
Latest Reviews
tranglos reviewed v5.2 Build 330 Beta on Sep 17, 2010
Fantastic. Still the best - fastest, most reliable, most feature-packed downloader. Very well designed, assures a smooth flow for keyboard users.

Little touches that show considerate design: INS key to add a download is simply awesome - not Ctrl+N, not some other contortion, just hit Insert. (Provided your keyboard has the Insert key in a sane position, so choose wisely, because it's a useful key.) When the new download dialog opens, it automatically pastes the URL from clipboard, if any - simple, nice, easy, and neglected by so many software authors. Intuitive and highly useful bandwidth throttling. Very nice persistent history (if you want). Also nice are the automated categories which you can configure to put files of different types into designated folders (audio goes here, video goes there, etc.)

It's worrying that Reget Dx hasn't been updated in quite a while now, and it shows - no YouTube downloads, for example. I sure hope developers will revive Reget Dx, it doesn't deserve to be neglected.

(FileForum bug? When you use the word "Shift" (the modifier key starting with "S"), the forum software thinks you're swearing and replaces the last 4 letters with three (3!) asterisks. As in: press Ctrl+Shift+A. And I swear I did not miss the letter "F" the two times I typed the key name above)
broadcast reviewed v5.2 Build 327 on Feb 7, 2008
Good stuff! see priview here http://loadingvault.com/search.php?q=ReGet+Deluxe
Raysy reviewed v5.1 on Jul 6, 2007
I'm using it since 2002. Bought once, you get all updates for free. Many options, some are really useful.
Since nowadays there are powerful freeware downloadmanager like FlashGet (formerly Shareware), I would not buy it again in 2007.
id242 reviewed v5.1.300 Beta on Jun 13, 2007
Im still using version 4.3 pro on Vista Ultimate through Firefox. Works like a charm! I tried a 5.1 pro version and didnt like how it "dumbed" things down. All the the "new features" listed for version 5.1 are currently already available in 4.3 (except for the improved IE7 integration).

I am rating the product a "5" because there is no option to rate version comparisons... which I would only give this version a "3"
Steve Austin reviewed v5.0.295 on May 4, 2007
Good stuff.
poisonu reviewed v5.0.295 on May 4, 2007
Superb!!
ReGet & FlashGet are my favorite DL Mgrs....,
..& I have tried too many to mention....
--------
New in ReGet Deluxe 5.0
* Windows Vista compatibility
* Microsoft Internet Explorer 7 support improved
* Windows Installer based setup
* Easier Traffic-limit mode switch
* Dedicated Start/Stop All downloads buttons added to toolbar
* Support for pasting multiple links in the New Download window is added
Zankur reviewed v5.0.294 RC4 on Apr 28, 2007
Total waste of time....god knows what has improved when you get to see the same crap interface since god knows which version of reget....

there are better alternatives like flashget,idm,free-download-manager etc etc..
Benjamin Linus reviewed v5.0.293 RC3 on Apr 25, 2007
Very good download manager. Not quite as good as GetRight, but getting there..

The 2 year dry spell in development between 4.2 and 5.0 did not help.

Hopefully Reget will continue to be improved upon..
munga42 reviewed v5.0 RC1 on Apr 13, 2007
Would you people please stop with the retarded posts about advertising freeware programs, you are supposted to review reget here.

Ive used it for ages, very nice ui and fast downloads ofcourse :P
poisonu reviewed v4.3.285 Beta on Mar 14, 2007
Superb!
Best if You are Serious about downloads & their management...