File Details

File Size
111.2 MB
License
Open Source
Operating System
Windows (All)
Date Added
September 18, 2023
Total Downloads
14,821
Publisher
ReactOS Project
Homepage
ReactOS
Publisher's Description
ReactOS is a free open source operating system based on the best design principles found in the Windows NT architecture (Windows versions such as Windows XP, Windows 7, Windows Server 2012 are built on Windows NT architecture). Written completely from scratch, ReactOS is not a Linux based system, and shares none of the UNIX architecture.
The main goal of the ReactOS project is to provide an operating system which is binary compatible with Windows. This will allow your Windows applications and drivers to run as they would on your Windows system. Additionally, the look and feel of the Windows operating system is used, such that people accustomed to the familiar user interface of Windows would find using ReactOS straightforward. The ultimate goal of ReactOS is to allow you to use it as alternative to Windows without the need to change software you are used to.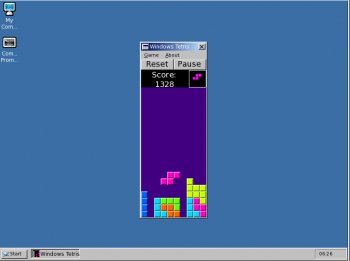 View Full-size
Latest Reviews
elyana reviewed v0.4.14 Release 73 on Jun 14, 2023
"Wow great i support it. "
GlendaBrewer reviewed v0.4.14 Release 56 on Feb 27, 2023
gsteele reviewed v0.4.14 Release 8 on Feb 7, 2022
A total waste of time
Aegis69 reviewed v0.4.3 on Nov 17, 2016
Interesting as a research project, but Linux + Wine is a far more robust and stable platform to run windows apps on than this ever will be.
Aegis69 reviewed v0.3.16 on Feb 6, 2014
And I thought the development pace of linux desktop was glacial, this one is moving 10 times slower than that.
tomkelly reviewed v0.3.15 on Aug 22, 2013
reactos is solid
wogget reviewed v0.3.14 on Sep 23, 2012
Pretty awesome for a free OS that can run Windows programs and still be fast with 1 GB RAM in VirtualBox. Works great!
drkstlkr reviewed v0.3.13 on Nov 29, 2011
Many of you who wonder why ReactOS is still using an "outdated Windows XP" interface are completely missing many valuable points of ReactOS. For one, most of your novice Windows users are very comfortable with Windows XP, and HATED Vista's newer interface, let alone trying to learn a new OS, such as Linux. ReactOS is a viable option for people who are still using an older computer, possibly who's hard drive crashed, and can no longer order recovery discs from the manufacturer. Most people could afford another new hard drive for around $70, but don't want to spend $200 for the retail version of Windows Vista/7. Many users and companies still use software tailored for Windows XP that have known issues running in Vista/7. Most advanced users wouldn't run ReactOS, so stop looking at it from that narrowed perspective.
ender ossel reviewed v0.3.13 on Sep 27, 2011
SUPER!!!! BUT NOT IF YOU INSTALL VISUAL STUDIO 2010
only it is a beta but it idea is MEGA SUPER ;)
A REAL GOOT IDEA
wuahn reviewed v0.3.12 on Nov 30, 2010
I applaud the effort. I really really do. Unfortunately it just crashes every five minutes with no explanation. I understand that it's alpha though and as such it deserves a appropriate rating for what it is.