File Details

File Size
0.3 MB
License
Freeware
Operating System
Windows 7/2000/Vista/XP
Date Added
January 17, 2012
Total Downloads
16,796
Publisher
Kevin Glynn
Homepage
RealTemp
Publisher's Description
Real Temp is a temperature monitoring program designed for all Intel single Core, Dual Core and Quad Core processors. Each core on these processors has a digital thermal sensor (DTS) that reports temperature data relative to TjMax which is the safe maximum operating core temperature for the CPU. As your CPU heats up, your Distance to TjMax will decrease. If it reaches zero your processor will start to throttle or slow down so maximizing your distance away from TjMax will help your computer run at full speed and more reliably too.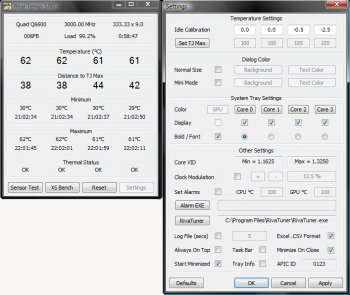 View Full-size
Latest Reviews
coover reviewed v3.70 on Jan 17, 2012
I am amazed at some of the low scores given this interesting and useful application. Evidently, those giving the low scores didn't read the first sentence in the description "Real Temp is a temperature monitoring program designed for all Intel single Core, Dual Core and Quad Core processors".

It is for INTEL processors. It is not for AMD and should not be graded down for that. No, its not for the older Pentium processors, either. But the truth is, if it won't work on your machine but it will work on others, why should it be downgraded? Would you downgrade an Apple application if it will not work on your Wiindows machine?

Additionally, the fact that it does not install on your machine, on any machine, means that it cannot do harm. Simply having the downloaded directory on your machine does not hurt much, it just takes up a small amount of space on your hard drive or flash drive or wherever you've placed it. Can't use it or don't want it anymore? Delete it, but don't downgrade it when it can help other people.
Mt.Man reviewed v3.67 Beta on Jan 26, 2011
Says Core, meaning Intel's new 'Core' series cpu. Their home page clearly states "Pentium 4 processors are not supported".
GSMAN reviewed v3.65 Beta on Jan 18, 2011
I agree with Old Geek, two different machines, no go on either, it doesn't support them, even though they are Intel 'single core' processors.
Ones a 3.4ghzHT, others a 2.8ghzHT........maybe its the hyper-threading...LOL.
Nevertheless they're ad claim is untrue..........
mike59 reviewed v3.59.3 Beta on Jun 23, 2010
Still fail
mike59 reviewed v3.59 Beta on May 24, 2010
This is like the only program that does not support AMD. Get a Phenom II 1090T you nub and stop wasting money on over priced Intel crap!
sting777 reviewed v3.58.4 Beta on May 8, 2010
Temperature mismatch between Intel thermal analysis tool and this temperature software. So I'm rating this 2 stars (hopefully it will get better).

Intel TAT says 28/25C the other says 40C. I do like CSV logging option (useful to build charts in excel or google docs). Logging options would be nice using basic CSV you'd have the duration count + raw temps so you could graph the temperatures over a long time period. If the author implements the logging options correctly this would be useful for temperature comparisons. Intel TAT has poor logging output.
OldGeek reviewed v3.40 on Nov 16, 2009
I tried this updated version and it still tells me my single core Intel CPU is "not supported". If the description did not include the "all single core" terminology I wouldn't be able to give it a review, however it does say that and it simply is not true. So because of the misleading description I can only give it a 1.
hedley reviewed v3.39.2 Beta on Nov 7, 2009
no support for amd phenom,...but idea is quite ok
coover reviewed v3.39.2 Beta on Nov 6, 2009
Seems to have lots of information and evidently tests the CPU to determine something(?). Unfortunately, I didn't understand the results (other than my CPU was not anywhere close to the maximum temperature).

Perhaps the software author could add a text file which explains each of the tests and results? There is a readme.txt file included that gives a couple of web pages that may give this information, but I do think it should be included in the zip file.

In the meantime, because I do see that lots of information is available, I will give this app a 5.
outofspace reviewed v3.39 Beta on Nov 3, 2009
some guy WTF WHAT INSTALLER?