File Details

File Size
26.0 MB
License
Shareware, $39.95
Operating System
Windows 7/8/10/Vista/XP
Date Added
February 26, 2021
Total Downloads
25,491
Publisher
Chemtable Software
Homepage
Reg Organizer
Publisher's Description
Reg Organizer offers a variety of tools required for effective System Registry and configuration files management. This software lets you view, edit and clean the Registry and preview the registry files you want to import (preview files directly from Windows Explorer). The automatic Registry cleanup mode helps you optimize your system performance. You can thoroughly search the Registry to find all the keys related to a certain application.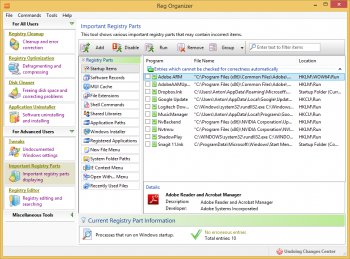 View Full-size
Latest Reviews
CyberDoc999 reviewed v7.20 on Aug 30, 2015
this is very good just wish the price was lower
Music4Ever reviewed v7.0 Beta 3 on Jan 16, 2015
New Windows 8 look, & disk cleanup tools have been re-written, I can live with the new look & it's still a most useful program - Recommended for those who like to delve into the registry.
Music4Ever reviewed v6.55 Beta 3 on Jul 26, 2014
The latest additions on version & the & the last update are unwanted & unneeded, the author does what he thinks is right but does not listen to his customers, yet more pointless changes with this version, though still a good program for those who tinker with the registry - This is expensive software & I would not pay the sites asking place but search for discounts - If the program gets more unwanted changes in time I will ditch it.
Music4Ever reviewed v6.30 on Nov 20, 2013
After doing a search I was able to get a license for about £12, expensive if you pay the asking price but a handy program.
tylergierke reviewed v6.20 on Aug 23, 2013
must have app
Music4Ever reviewed v6.0 on Jan 22, 2013
It's quite a niche program & is expensive, but very useful if you really like to mess with the registry - The changes from 5 to 6 are not earth shattering but some helpful improvements - Once bought the yearly renewal charge is OK, give it a try you might like it -
Music4Ever reviewed v6.0 Beta 2 on Nov 20, 2012
If you enjoy tinkering with the Registry this is a powerful program - If you feel it's a registry cleaner then you probably don't understand how to add 2+2...

Great & worth every penny.
jetz reviewed v5.46 Beta 1 on Jun 21, 2012
Haha!
You got scammed!
Only the clueless clean their registry.
Music4Ever reviewed v5.46 Beta 1 on Jun 21, 2012
This program I bought is due for renewal in around a month, I will be buying it again that says it all really ~

No doubt the apes will have comments but as they neither install or buy software any ape like reviews should be ignored. It is however interesting to see evolution has enabled some primitive species to at least use the Internet to some degree, a most intriguing development ~
Betanoob reviewed v5.45 Beta 3 on Jun 1, 2012
I smell fanboyz!