File Details

File Size
40.2 MB
License
Shareware, $99.00
Operating System
Windows (All)
Date Added
July 20, 2020
Total Downloads
15,909
Publisher
3am Labs Ltd.
Homepage
RemotelyAnywhere
Other Versions
Publisher's Description
RemotelyAnywhere is a small HTTP daemon that must be installed on a Windows NT computer. You can then access that computer over the network via TCP/IP from any other machine capable of running a browser. You'll be able to manage services, processes, users, files. It empowers you with remote control, remote booting, etc. And best of all, you don't need any sort of special client software, apart from a javascript-enabled browser.
Workstation Edition helps system administrators keep IT systems up and computer users happy by offering the industry's richest remote-support toolkit. Support staff can often detect, diagnose, and solve problems faster than local support using built-in operating system functions. Background access means the user need not be interrupted during the implementation of solutions.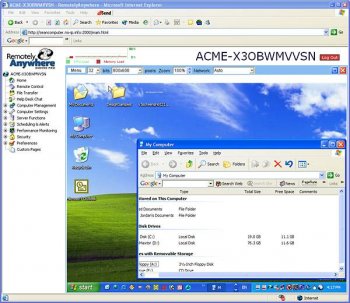 View Full-size
Latest Reviews
SuzzyWoozy reviewed v10.0.2100 on Oct 20, 2011
First of all this is not freeware - there is the standard version that has an expiration date (update: I see the fileforum changed the description).

Secondly, this is not "the best remote application" it is merely a centralized gui for putty, VNC, pcAnywhere, etc - you need to buy license and install all the other third party remote software in order to make it work. For instance, you need pcAnywhere which makes me wondering why paying 3am Labs Ltd. for something you already have.

If for instance you are only using free remote solution (putty, VNC, RDC) then I suggest trying mRemoteNG, which is open source and truly freeware.

I only see corporate users interested in this and I will rate it 4 stars for the nice interface tough.
Yanco reviewed v8.0.747 on Jul 16, 2008
This is a best remote aplication to exist to day, remember that.
VictorAnderson reviewed v8.0.747 on Jul 15, 2008
Giving this one a 3. It works as it should, but it's not freeware either. Cost 100 bucks and add another 200 if you want the server edition. If I was going to pay for such a tool, pcAnywhere has a LOT more features and if you ask me, a MUCH better piece of software. VNC of course is still freeware and logmein has become quite popular and also has a freeware version.
PostDeals reviewed v7.50.595 Beta on Apr 8, 2007
Great app but I really like www.logmein.com I have the free version and it rocks.
Diam0nd reviewed v7.50.595 Beta on Apr 7, 2007
Great app. Best in its kind, imho.
uberfly reviewed v7.50.595 Beta on Apr 7, 2007
Don't you love it when dipwads like bugmenot rate software based on some fanboy love of some other app they have an unfathomable crush on. You ever try RemotelyAnywhere? No- but that would probably be asking too much.

RA has always been rock-solid. The company I work for has been using it for years without a hitch. Full featured, almost to a fault.
Diam0nd reviewed v7.50.592 Beta on Mar 28, 2007
Best RA app, in my opinion.
Pegusis2 reviewed v7.50.592 Beta on Mar 27, 2007
I've been using RA for about 7 years... next best thing to being there.

I personally have not had any problems with this software... ever.
Diam0nd reviewed v7.50.586 Beta on Mar 8, 2007
Best rd software, imho.
phrentec reviewed v5.0 on Jun 16, 2003
only reason worth using instead of vnc or remotelyanything is it's built in auto http tunneling which allows a no hassle way for remoting behind proxy and firewalls. remotelyanything requires you to go through its seperat directory server and doesn't have a way to access through a browser although it is smaller and faster.