File Details

File Size
0.2 MB
License
Freeware
Operating System
Windows 2000/Server 2003/XP
Date Added
March 22, 2007
Total Downloads
190,249
Publisher
RipIt4Me
Homepage
RipIt4Me
Publisher's Description
RipIt4Me is a freeware utility that helps you backup your copy protected DVDs. Recently released DVDs are now very often equipped with stronger copy protections - such as ARccOS and RipGuard DVD. Other programs cannot handle these types of discs.
With the help of RipIt4Me, ripping these DVDs will be a very easy task. The program is fully automated and the wizard will guide you through all the necessary steps involved. If you prefer, there is also a true "1-Click" mode that will perform all the involved steps automatically for you.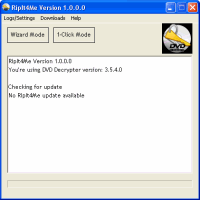 View Full-size
Latest Reviews
surgemeister01 reviewed v1.7.1.0 on Feb 12, 2010
this thing is USELESS the only thing it will do is tell me my dvd drive is locked or not found--any suggestions? i tried to run it in windows xp sp2 mode, and still the same results--i'm using vista 32bit--HELP ME, HELP ME
echohead reviewed v1.7.1.0 on Feb 21, 2008
the holy grail...
fanaudi reviewed v1.7.1.0 on Feb 21, 2008
Last Febr. 21 , 2008 , I wrote this :

" The best tool I ever used for ripping dvds .
It' s free , unbelievable ! Discovered last June 2007 and adopted at once .
Combined with DVD Decrypter , FixVTS and DVDShrink , it works superbly : no error , no crash of any kind . Just one click and you' re done . A dream of a utility."

Today , april 2012 , this product is outdated but remains very usefull if you need to make new repaired copies of damaged self recorded discs . Works very well on all Windows systems including Windows 7 Ultimate .
Onsoku reviewed v1.7.1.0 on Feb 17, 2008
Should I hope for Vista support?!?
XweAponX reviewed v1.7.1.0 on May 25, 2007
GOD BLESS Betanews for hosting this MOST important of tools.

I have been using this program since it came out. It has YET to fail me in copying a DVD.

May the programs to copy Blu Ray and HD DVD be developed Pronto!
stisev reviewed v1.7.1.0 on Apr 14, 2007
I've always been a CloneCD + CloneDVD + AnyDVD (from SlySoft) fan, but after learning of the Zepter registry keys and (non-malacious) rootkits they install on systems, I got fed up with the software and sought the alternatives. Well, this is it.

DVD Decryptor + RipIt4Me + DVDShrink are THE best alternatives out there and guess what:

1) No driver installation
2) No rootkit crap
3) FREE!

Awesome!
elopez17 reviewed v1.7.1.0 on Apr 9, 2007
Sharman

This is the only place I know you find the original one

http://www.mrbass.org/dvdrip/
Sharman reviewed v1.7.1.0 on Apr 6, 2007
Web Site 404s: Needs a program called dvd decrypter. There is about 50 programs with this name, so you have absolutely no idea which one to get.

Might be a good program - I have no idea as it doesn't work:

Program errors with the following
RipIt4Me Version 1.7.0.0
Checking for update
No RipIt4Me update available
Wrong path... RipIt4Me can't work without DVD Decrypter.
ripfuel reviewed v1.7.0.0 on Feb 28, 2007
I love this free program, if it turns to shareware & does not cost 2 much... I would buy it today! Thanks to the author & team for keeping up with the latest protections. This program has come through when AnyDvd could not! ROCK ON!
janzaclipz reviewed v1.6.9.0 on Feb 12, 2007
I just downloaded Rip this weekened, I was able to back up everything and anything like the Covenant and Grudge 2. DVDFAB was not. AnyDVD what for? it does nothing to help, they to keep up with Wilson's. RIP is the premier choice at the momment. Yes Sir!