File Details

File Size
2.1 MB
License
Freeware
Operating System
Windows (All)
Date Added
March 6, 2013
Total Downloads
8,833
Publisher
Geert Moernaut
Homepage
RunScanner
Publisher's Description
RunScanner is a completely free windows system utility which scans your system for all configured running programs. You can use runscanner to detect autostart programs, spyware, adware, homepage hijackers, unverified drivers and other problems. You can import and export your results and let other people help you to solve your problems.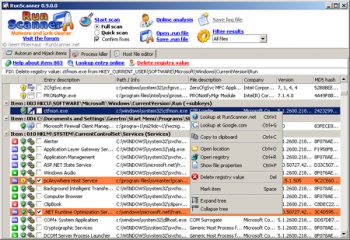 View Full-size
Latest Reviews
some guy reviewed v2.0.0.50 on Aug 31, 2010
2.0.0.5.0 worked on my Win7 64 bit nice piece of software
DKDude reviewed v1.9.0.9 on Nov 11, 2009
Will this tool ever be able to run on win7x64?

I hope so b/c i MISS this great tool.
jotte_ct reviewed v1.9.0.9 on Oct 17, 2009
It worked fine on one machine. Nice app.
On the 2-nd one while scanning it always locks when scanning file %windows%\system32\dciman32.dll
I'm not blaming the program for this...
DKDude reviewed v1.9.0.9 on Sep 16, 2009
Wont run on 64bit, that sucks, I used to love this tool, but now I'm running win7-64bit and it wont work, ARGHHHHHHHHHHHHHHHHHHHHHH.
DKDude reviewed v1.8.1.0 on Jun 1, 2009
A "must have" program.

Keep up the good work.
bellgamin reviewed v1.6.0.4 on Dec 14, 2007
It's a superb security tool. donbregman's AVG came up with a false positive. Runscanner is totally clean, but like many security apps it does some "suspicious" things in order to check things out.

Runscanner is highly respected at security forums including, for example, Wilders Security
why hello there reviewed v1.6.0.4 on Dec 14, 2007
Did you ever think, maybe it could be a false positive?

Anyways this a handy similar to HijackThis. Very useful.
donbregman reviewed v1.5.0.39 on Dec 6, 2007
When I downloaded th file, My AVG anti-virus program alerted me to the fact that it contained a Trojan Horse SHeur AEYQ. I sent it to the virsu vault and subsequently deleted it.
Lusher reviewed v1.0.3 on Aug 24, 2007
5.

A tool mooted as a replacement for Hijackthis! and Sysinternals AutoRuns.

The interface is not nicest, but is servicable.

It has certain features not available in AutoRuns including the ability to filter out none-signed files (Autoruns does only microsoft, RunScanner does either or both), host file listings , built in process lister (fairly basic but servicable with the ability to simultaneously kill self protecting processes) etc.

Overall it seems to be worth having, once they iron out all the bugs.
belthurgp reviewed v0.9.0.0 Beta on Mar 30, 2007
5 to appreciate the hard work, but I would rather use SysInternals->Autoruns. This has some way to go. Users generally don't like any UI that looks like it has ads....Please fix UI.