File Details

File Size
4.2 MB
License
Shareware, $29.99
Operating System
Windows (All)
Date Added
October 29, 2023
Total Downloads
3,125
Publisher
Gabriel Topala
Homepage
SIW
Publisher's Description
SIW is a Read-Only / Display-Only System Information tool that gathers detailed information about your system properties and settings. It is a utility that includes detailed specs for Motherboard, BIOS, CPU, Devices, Memory, Video, Drivers, Ports, Printers. It displays information about Operating System, Installed Programs, Processes, Services, Serial Numbers, Users, Open Files, System uptime, Users, Network, Network Shares, and more, as well as real-time monitors for CPU, Memory, Page File usage and network traffic. It also displays currently active network connections, Passwords hidden behind asterisks, installed codecs, and more.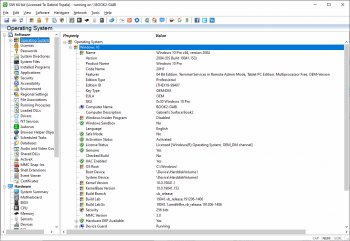 View Full-size
Latest Reviews
XPZone reviewed v2022 v12.2.0505 on May 6, 2022
Why when I installed this was my windows key removed from my system.
I had to reactivate windows. What was in the installer ?
And the horrible separate popup asking for money, How is that safe trialware ?
That is why I never test anything anymore without backing up my system first.

The old free version never used an installer like the one this has, I do not trust this software anymore.

Avoid at all costs
JamesHackett reviewed v2021 v11.7.1116 on Nov 17, 2021
Very cool software
kstev99 reviewed v2017 v7.7.1029 on Oct 29, 2017
This was once freeware, and the best of its kind. Probably still the best, however I still use the last free portable version (2011.10.29) on my Flash Drive. Still very good, but outdated of course

Thanks to the author for such a very detailed program, but while installed version is $20, a portable version is $50 for 1 year or $150 for lifetime. This seems a little overpriced for what it does. If I want a system analysis program that is always up to date, I'll just use HWInfo, it is very good and Free
BANDIT- reviewed v4.5.0725 on Oct 21, 2013
FreeWare version is Dis-Continued...
A Portable F/Ware version on my FileHost..

Direct Download @Zshare (.rar) NoPass:
"100% Clean" Original file from Portableapps.com
-http://www28.zippyshare.com/d/90253200/542797/SIWPortable_BANDIT.rar
OR
Link @h**p://portableapps.com/apps/utilities/siw_portable
Someone reviewed v on Mar 19, 2023
Pros:
Cons:
Bottom Line:
Someone reviewed v on Jul 5, 2022
Pros: 555
Cons: 555
Bottom Line: 555
XPZone reviewed v2022 v12.2.0505 on May 6, 2022
Pros: Was once good software
Cons: Seems to have a suspicious installer
The separate popup window that does not go away for testing.
Bottom Line: Why when I installed this was my windows key removed from my system.
I had to reactivate windows. What was in the installer ?
And the horrible separate popup asking for money, How is that safe trialware ?
That is why I never test anything anymore without backing up my system first.

The old free version never used an installer like the one this has, I do not trust this software anymore.

Avoid at all costs
JamesHackett reviewed v2021 v11.7.1116 on Nov 17, 2021
Pros: Easy to use
Cons: Hard to find a normal version
Bottom Line: Very cool software
kstev99 reviewed v2017 v7.7.1029 on Oct 29, 2017
Pros: Probably the Best System Analysis Tool available
Cons: Pricey
Bottom Line: This was once freeware, and the best of its kind. Probably still the best, however I still use the last free portable version (2011.10.29) on my Flash Drive. Still very good, but outdated of course

Thanks to the author for such a very detailed program, but while installed version is $20, a portable version is $50 for 1 year or $150 for lifetime. This seems a little overpriced for what it does. If I want a system analysis program that is always up to date, I'll just use HWInfo, it is very good and Free
BANDIT- reviewed v4.5.0725 on Oct 21, 2013
FreeWare version is Dis-Continued...
A Portable F/Ware version on my FileHost..

Direct Download @Zshare (.rar) NoPass:
"100% Clean" Original file from Portableapps.com
-http://www28.zippyshare.com/d/90253200/542797/SIWPortable_BANDIT.rar
OR
Link @h**p://portableapps.com/apps/utilities/siw_portable