File Details

File Size
272.5 MB
License
Open Source
Operating System
Linux
Date Added
February 21, 2022
Total Downloads
9,418
Publisher
SLAX
Homepage
SLAX
Publisher's Description
Slax is a modern, portable, small and fast Linux operating system with modular approach and outstanding design. It runs directly from your USB flash drive without installing, so you can carry it everywhere you go in your pocket. Despite its small size, Slax provides nice graphical user interface and wise selection of pre-installed programs, such as a Web browser, Terminal, and more.
Slax is now based on Debian, which gives you the ability to benefit from its entire ecosystem. Tens of thousands of prebuilt packages with applications, all within reach thanks to apt command.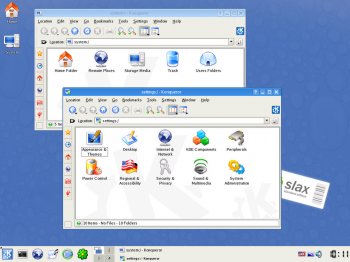 View Full-size
Latest Reviews
winamp reviewed v6.2.0 on Dec 14, 2010
long live slax! check out the forum http://www.slax.org/forum.php there yll find Slax Remix thats even better also a KDE4 version available!
rhy7s reviewed v6.2.0 on May 4, 2009
Great for my usage as a lightweight easy to modify kiosk. Just checking if the correct version of 6.2.0 is available from the download link? See http://www.tomas-m.com/blog/
adamlau reviewed v6.0.8 on Nov 24, 2008
Stable and compatible across a number of hardware platforms, though I would have preferred XFCE over KDE (ala Popcorn) for snappier administration. Files can be saved if Slax is installed and run off a FAT formatted USB flash drive. Loses one star for poor module support as I could only modify one slackware-current package (mozilla-firefox-3.0.4-i686-1) out of ten to work on Slax 6.
legion reviewed v6.0.7 on May 9, 2008
Works without problems, I like it :)
anomoly reviewed v6.0.7 on May 8, 2008
Live by default runs in memory and the only way to save stuff is to install it (?). Instead the 'cd' should be able to make a new bootable iso based on your preferences, etc. my 2¢
wagner reatto reviewed v6.0.6 on Apr 21, 2008
my first time using a different o.s.

great!
Avion Airplane reviewed v6.0.6 on Apr 18, 2008
its ok .. I like Damn Small Linux better
improvelence reviewed v6.0.5 on Apr 15, 2008
Not as good as Kubuntu Live.
yangster reviewed v6.0.2 on Mar 4, 2008
At one time you could save Slax changes to a file server. However if you are going to run LiveCD's I found Puppy, Slax, DSL and Wolvix (games) to be the easiest. However the slickest trick is to use a small app Wubi.
http://wubi-installer.org/

If you have to stick to liveCD's there are over 300 versions at.. http://www.livecdlist.co...&sort=Name&sm=0
jlsand reviewed v6.0.1 on Feb 28, 2008
Newbie here. I have tried Slax, the previous version, but was not able to figure out how to keep any changes I made. After rebooting, none of the changes I did would keep, such as changing the wallpaper, putting in bookmarks, downloading and installing a program. Does slax do this? Puppy Linux does do this and I don't have any problems saving things on it.

Thanks for any information.