File Details

File Size
2.9 MB
License
Freeware
Operating System
Windows (All)
Date Added
August 18, 2023
Total Downloads
77,413
Publisher
KC Softwares
Homepage
SUMo
Publisher's Description
SUMo (Software Updates Monitoring) detects applications you are using and tracks updates. If a new version is detected, you'll be notified by SUMo. It relies a social networking as its database is populated by the other users. By using up-to-date software you'll reduce the risk of encountering bugs and will benefit from more features.
This download is for the Lite installer. It does not contain any sponsor.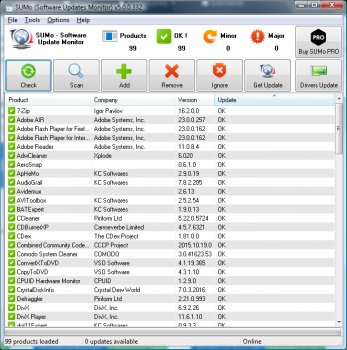 View Full-size
Latest Reviews
stumbleguys reviewed v5.17.10.542 on Aug 20, 2023
Thanks for your reviews https://stumbleguys2.net/
Someone reviewed v5.16 on Aug 25, 2022
In fact, I have used many programs, both free and paid. This is by far the best "free" cleaner along with CCleane
uzi reviewed v5.10.5.440 on Dec 26, 2019
Because of what I wrote above, I prefer the freeware version which identifies the programs that have updates, and to manually check the updates in order to decide whether to make the update or to define "skip" or "ignore".

I've tried a few other similar programs and this one is the best among them.
sweathog reviewed v5.8.9.411 on Dec 29, 2018
Very effective at finding software on you PC that needs to be updated. Be sure to get the .zip version without the spyware.Less effective at pointing you to the right download location. But you can easily Google it.
seelengarten reviewed v5.8.0.402 on Sep 9, 2018
My favorite! Sad, because KC Softwares don´t explain the concept of this app an how it works. All others I tried, control only some popular programs but no all. This updater is the only one for thorough people! The interface could be a very little nicer, but this is a my very sophisticated desire... Try it and get the sumo_lite.exe with no installer-ads!!
Music4Ever reviewed v5.7.1.398 on Jul 22, 2018
Brilliant program & best software checker there is by a long way (tried them all). Those who give it less than four stars simply have never tried it. Bought the full version with auto updater. If you find a false update (rare) they sort it quickly. Great program!
stevvie reviewed v5.6.6.95 on May 24, 2018
don't bother
Music4Ever reviewed v5.3.5.367 on Sep 10, 2017
Best update checker I've used - Give it a try & ignore the numpties below.
gsteele reviewed v5.3.1.364 on Jul 25, 2017
Don't bother with this "software", just do a Google search. There are muct better alternatives, such as:

Patchmypc
henrypeck reviewed v5.3.1.364 on Jul 25, 2017
You're better off just using any search engine then this piece of junk. Real helpful software are:
SECUNIA - https://www.flexerasoftw...onal-software-inspector/
Patch My PC - https://patchmypc.net/download
Slim Cleaner - https://www.slimwareutilities.com/slimcleaner.php