File Details

File Size
5.3 MB
License
Freeware
Operating System
Windows 2000/Server 2003/XP
Date Added
April 3, 2007
Total Downloads
65,566
Publisher
Gustaf / Oscar
Homepage
Samurize
Publisher's Description
Samurize is a system monitoring utility with outstanding configuration power. The configuration program is totally separated from the client for minimal memory usage. The program displays almost any kind of information right on your desktop/taskbar and homepage.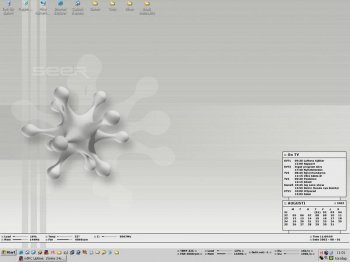 View Full-size
Latest Reviews
stisev reviewed v1.64.3 on Feb 21, 2009
If anyone is using Samurize, MAKE SURE to checkout uziq's "pagescraper". This makes Samurize worth having BY ITSELF!
DKDude reviewed v1.64.3 on Jul 3, 2008
This is a MUST HAVE, I've been using this for some years, and it's so cool.

BTW. is it dead? it's a year since last update.
Diam0nd reviewed v1.64.3 on Apr 4, 2007
Great stuff! As always! :D
stisev reviewed v1.64.3 Beta on Feb 16, 2007
Arguably one of the greast programs ever coded for the Windows platform.

Bravo.
Diam0nd reviewed v1.64.3 Beta on Feb 6, 2007
God bless this app. Great stuff.
Diam0nd reviewed v1.64.2 on Dec 21, 2006
Great application. Mega flexible and it really does make your desktop look "cool".

The only thing I'd like is for the program to be updated more often. I mean, the update before this was like months ago. Other than that, simply great.
TheQuestor reviewed v1.64.2 on Dec 21, 2006
The best just keep getting better. This is a must have. Once you learn the editor, there is nothing you can not do with this. I used it to monitor all my PCs, display useful information, and for general peace of mind. Freeware projects such as this deserve our support. Toss them a few dollars on the donate button and feel good about helping a great project continue.
zik reviewed v1.64 on May 26, 2006
if the resources consumed to just show stats lowered, the this would be 5stars
(not everyone has 1GB of ram)
stisev reviewed v1.63.1 on Dec 4, 2005
Klusternisse, shut up.

14MB here and running MASSIVE graphic-intensive Samurize plugins n' things
some guy reviewed v1.63.1 on Oct 13, 2005
very nice program indeed, for the power user and someboady that has a fast machine with alot of ram, the little testing that I did based on prosscess. my machine is to slow to add more I curently run 18 proscess, and after adding a few meters brought me to 20, so I had to uninstall program,need speed not looks. But does what it says very well not for the gammer user.