File Details

File Size
37.3 MB
License
Freeware
Operating System
Windows (All)
Date Added
May 4, 2022
Total Downloads
32,629
Publisher
The Mozilla Organization
Homepage
SeaMonkey
Other Versions
Publisher's Description
SeamMonkey is an all-in-one Internet application suite. Web-browser, advanced e-mail and newsgroup client, IRC chat client, and HTML editing made simple -- all your Internet needs in one application.
The SeaMonkey project is a community effort to deliver production-quality releases of code derived from the application formerly known as "Mozilla Application Suite".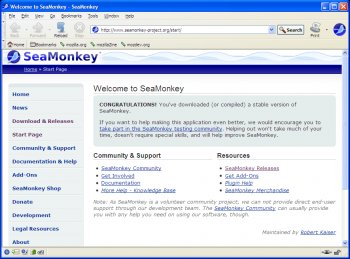 View Full-size
Latest Reviews
Casper75 reviewed v2.46 on Jan 16, 2017
Still the old SeaMonkey I know & love been using it since day 1 & I'm now using a 64bit build of the browser with the only downfall being there's no sync service available, I've heard that this issue may be solved In a future release which Is fantastic I have too many passwords which I have to remember & It can be annoying.
Sven123456789 reviewed v2.40 on Mar 14, 2016
Still the best as always
johnk119 reviewed v2.39 on Nov 13, 2015
great
darkwzrd1 reviewed v2.38 on Sep 30, 2015
This has been my Default Browser forever! Definitely The Best!!!! It amazes me how many IT people have asked me over the years what browser are you using.... Though because K-Meleon finally released a new version (which is fastest browser, period), I switch between both.
Sven123456789 reviewed v2.35 on Sep 3, 2015
2.35 is working good. Like the last version, all my add on's came over fine. No problems with any of the sites I've visited.
Sven123456789 reviewed v2.31 on Dec 5, 2014
Back on top as the best Browser.
Monkey_Punch reviewed v2.31 Beta 2 on Dec 1, 2014
Autocomplete in URL bar used to be laggy and now it's instant and I'm on 7200RPM HD. I primarily use SM as opposed to Firefox because I like the simplicity of the UI. Works nice and fast now thanks to OMTC.
Orhin reviewed v2.29 on Sep 12, 2014
One of the last few browsers for intelligent people, refuses the way what Google wants other browsers to go - instead it stays feature rich, customizable!

No Google, forcing other browsers to become a Chrome clone to gain the users is not working 100%!

This is the browser to go!
Sven123456789 reviewed v2.29 on Sep 9, 2014
Rock solid as usual. I came upon the add on converter in the Mozillazine forum. And i was able to bring 4 add on's that only worked in firefox, but not in Seamonkey, over to here. Like allot of users, i'm dumping Firefox for Seamonkey. I always had Seamonkey, but kept Firefox as my main browser. Not anymore.
smaragdus reviewed v2.29 on Sep 8, 2014
@Monkey_Punch
Many thanks for the add-on converter- a great find and a life-saver! I detest the latest Firefox versions and the new abominable GUI but I haven't switched yet completely to SeaMonkey because there are some indispensable for me add-ons which do not work with SeaMonkey. The converter you recommended did the job well with some of the add-ons incompatible with SeaMonkey, so I have no more reasons to keep to Firefox. Thank you!