File Details

License
Shareware, $99.00
Operating System
Linux, Mac, Windows (All)
Date Added
July 18, 2023
Total Downloads
30,946
Publisher
VanDyke Software, Inc.
Homepage
SecureCRT
Publisher's Description
SecureCRT client for Windows, Mac, and Linux provides rock-solid terminal emulation for computing professionals, raising productivity with advanced session management and a host of ways to save time and streamline repetitive tasks. SecureCRT provides secure remote access, file transfer, and data tunneling for everyone in your organization.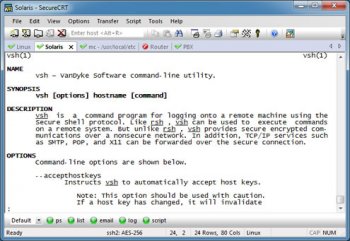 View Full-size
Latest Reviews
Darkk reviewed v6.5 Beta 2 on Oct 17, 2009
The best of the best. I've been using this in the SecureCRT/SecureFX bundle for years. Yes, it's expensive, but the capabilities are unbeatable for professionals. The scripting and tabbed interface make difficult and repetitive jobs a breeze.

Expensive, but worth it, if you have a need for a full-featured professional product, this is it. I wouldn't be without it. Also, top notch support over the years, and responsive to customer requests for new featured. I've had many I suggested added.

Call me a satisfied user.
RMerlin reviewed v6.2.3 on Sep 10, 2009
Slash the price in half, and this would be perfect. A hundred bucks just for a terminal client software is too expensive for anyone but medium to small businesses.
pingpongjedi reviewed v6.2 Beta 1 on Jan 30, 2009
I've used SCRT for a few years now (since version 4) and will continue to use it. The scripting is absolutely incredible. Imagine having to transfer a file from a one server to a gateway server to an internet ftp site, then to your pc -- a couple of times each day every day. SCRT lets you script that and make into a button.

It's just awesome.
SuzzyWoozy reviewed v6.0 on Jan 16, 2008
Well, you're right about the speed here and I can also add that the resource consumption are higher than putty's: 15MB vs. 5MB on a fresh connection (minimum lines in the buffer).

Still I'll rate this high because, regardless of the low speed and hight memory requirements, is still the only suitable tool due to better sessions management screen and estra-session automations it provides.

(Is very hard to use putty when working with 195 Unix machines in my case).

4.50 out of 5
ssb reviewed v6.0 Beta 5 on Jan 9, 2008
I do like SecureCRT features but performance wise I have to agree with TomekLutel. Terminal speed is much slower than Putty, even with fast lines (24Mb).
TomekLutel reviewed v6.0 Beta 4 on Dec 24, 2007
SecureCRT doesn't come close to Putty, Putty is much faster, try
time cat /var/log/somebiglog
and look at "user time"...
Putty is almost 2 times faster on 1Mb link, no metter of compression settings.
Home and End keys works correctly by default, unlike in SecureCRT.
The same with line wrapping.
Putty wins hands down, and its free.
Diam0nd reviewed v6.0 Beta 2 on Nov 29, 2007
Works great, as always!
Diam0nd reviewed v6.0 Beta 1 on Nov 24, 2007
putty doesnt come close, indeed. this is excellent
hondaman reviewed v5.2 Beta 4 on Oct 4, 2006
I bought this. Its the real only option for someone who manages lots of boxes. A bit steep in price, imo, but still deserves 5 stars.
CyberDog reviewed v5.2 Beta 2 on Sep 8, 2006
As someone who uses SSH regularly, this program is a must on the Windows platform. Putty just doesn't compare.