File Details

File Size
2.3 MB
License
Freeware
Operating System
Windows 2000/9x/Server 2003/XP
Date Added
June 2, 2014
Total Downloads
12,123
Publisher
Dirk Paehl
Homepage
Simplyzip
Publisher's Description
Simplyzip is a multi archiver that can open many archives. Other features include Multi-Zip, Backup to disk, Zip-Repair, Filecrypt, Create RAR/ACE, Localization, and more.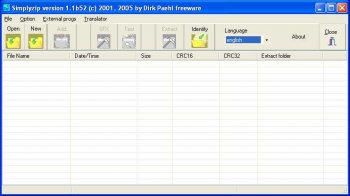 View Full-size
Latest Reviews
Sativarg reviewed v1.1 Beta 79 on Nov 17, 2012
Simplyzip 1.1 Beta 79 is what is written above but the application I recieved is showing 1.1 Beta 80

But... paehl.de=The latest news says
24.06.2012 Simplyzip 1.1beta 79: Small improvements, minor bug fixed

It may be fine enough but I got the imprssion that it would compress to RAR... I thought that was odd and now I see it will not do that so...
the artist reviewed v1.1 Beta 66 on Apr 17, 2007
yeah, maybe they'll be fixed in Beta 173.
l0v3 reviewed v1.1 Beta 65 on Dec 12, 2006
Uncharacteristically buggy for 7z and RAR. Hope update soon.
horsecharles reviewed v1.1 Beta 63 on Feb 15, 2006
I also say keep up the great work, + the repair option is very handy.
dvferret reviewed v1.1 Beta 63 on Feb 14, 2006
Keep up the great work on this program. I also agree that it is pointless to buy a zip program like winzip.
l0v3 reviewed v1.1 Beta 62 on Jan 11, 2006
The beauty of this application is that it is a really convenient GUI standalone. The 'installation' is nothing more than uncompressing its files and you don't need administrator rights to do this. If I am not wrong it does not write to the registry.
DudeBoyz reviewed v1.1 Beta 60 on Oct 27, 2005
They really should work to finalize a build. It is taking quite a while.

Still, solid, reliable, good features and free.
dejavu reviewed v1.1 Beta 60 on Oct 26, 2005
It's free and needs support!
Nikkie reviewed v1.1 Beta 57 on Jun 7, 2005
Its free and i support anything freeware .. keep up the great work and fix those bugs . it will be great in no time . right now i use izarc ..
kaweka reviewed v1.1 Beta 28 on Jul 18, 2003
Nice work, not bad but I prefer IZArc or ugly but simple and functional CompressIt.
Unnecessary in my opinion to pay for an archiver like WinZip & Co nowadays.