File Details

File Size
0.8 MB
License
Freeware
Operating System
Windows 2000/9x/Server 2003/XP
Date Added
January 18, 2003
Total Downloads
349,266
Publisher
Nikolaus Brennig
Homepage
SlowView
Publisher's Description
SlowView is a multimedia viewer that supports more than 40 image, video, and audio formats. Among the most known are: JPEG, GIF, MNG, PSD, TIFF, TGA, MP3, AVI, MOV, and many others. You`ll be able to browse images in thumbnail mode, or one by one. You`ll find such features, as creation of custom image effects, batch processing, or catalog creation. It supports Drag-n-Drop, wheel mouse, and other technologies.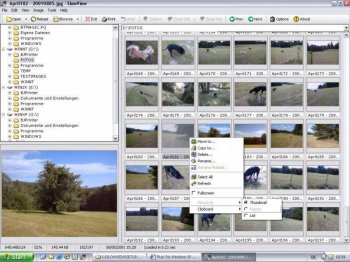 View Full-size
Latest Reviews
tylergierke reviewed v1.0 RC2 (1/18/03) on Aug 23, 2013
slowview rocks
winfoesdotcodotuk reviewed v1.0 RC2 (1/18/03) on Aug 22, 2009
This is still the best media browser out there. I use this as a portable application, there is no need to install this into your program files. You can simply point this app to your usb stick portable apps folder on install and it will work on any computer you take your usb stick to.
This beats InfranView and XNView hands down.
Considering the age of this application I am surprised it is not better known.
As for it being no longer updated or having further development, it does not need it. It is perfect as it is.
Senior Citizen reviewed v1.0 RC2 (1/18/03) on Oct 29, 2005
I've used SlowView for at least one year. Easy to understand and navigate. Fast and simple and lotsa fun. I'd say one of the BEST programs I've ever used. Perfect for people who don't want all those bells and whistles or an not computer savvy. Luv it; just plain luv SlowView! 10/29/2005
Vagman reviewed v1.0 RC2 (1/18/03) on Nov 6, 2004
The authors have great sence of humor!!! SLOWVIEW!!!
This is the best peace of software of this kind for those who doesnt need the bloated fatures of the ACDSEE...
Fast, low resources, great features....
5 from me
And.. get it now... its the LAST FREE VERSION.
MRBOWTIE reviewed v1.0 RC2 (1/18/03) on Feb 18, 2004
Very impressive. SLOWview it's not, easily as fast as XP's Picture and Fax viewer, with many more formats supported. Big bonus - this freeware tested clean on both AdAware and Spybot S/D! Very unusual these days - thanks for the courtesy of NOT including adware/spybots! Highly recommended - don't be afraid to try it because of other reviewers negative comments.
zridling reviewed v1.0 RC2 (1/18/03) on Jan 16, 2004
Folks, I'm not sure you're reviewing SlowView, but its name is apt: it's SLOW as a turtle! So if you're going to live to be 171, then you'll live just long enough to view your photos in SlowView. Skip this turkey and opt for a speed demon in CompuPIC, or at the least, ACDSee 6.03. And no, IrfanView isn't that good either, unless you're just so cheap that you love anything free, whether it's trash or not.
egg83 reviewed v1.0 RC2 (1/18/03) on Jan 18, 2003
This program has progressively gotten better and better. At first, it would crash, but now, the speed surpasses ACDSee as far as loading (esp thumbnails). With a bit more work, it will be the end-all solution to those who need a file viewer and manipulator. Watch this product!
Dirk van Hoofen reviewed v1.0 RC2 Updated on Dec 30, 2002
Thanks for this FREEWARE - so I can use it as a pupil, because we have not enough 'pocked-money'.
Thanks.
Change reviewed v1.0 RC2 on Dec 24, 2002
I've given this a 4 since it's not as good as it could be yet. For freeware this is an amazing piece of software and a true ACDSee-killer in diapers ;). I can't compare it to Irfanview as I don't have enough experience with that program, but I can compare it to ACDSee. SV opens and browses files much faster than ACDSee 5, but has less customization options for the browser itself and the shell integration. I find the extra tools on ACDSee bloat, although the HTML option is kind of useful for quick publication. Therefor I'm not sure whether or not I can replace ACDSee with SV yet, but for most users I'd say SV is way better than ACDSee and best of all: free! :)
captainahab reviewed v1.0 RC2 on Dec 23, 2002
A great free program. Major kudos to Nikolaus Brennig for making this.