File Details

File Size
2.4 MB
License
Freeware
Operating System
Windows 7/8/2000/Server 2003/Vista/XP
Date Added
December 5, 2014
Total Downloads
8,650
Publisher
Michel Krämer
Homepage
Spamihilator
Publisher's Description
Spamihilator examines your Emails while downloading from the server and deletes unwanted advertising messages. It works between your Email-Client-Software and the Internet. Every time you receive messages, they will be checked. Useless spam mails will be filtered out. This process works completely in the background. It runs with almost every Email-Software such as Outlook 2000/XP/Express, Eudora, Pegasus Mail, Phoenix Mail, Opera, Mozilla, Netscape, etc.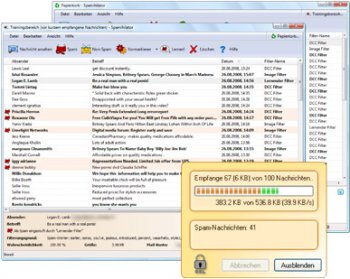 View Full-size
Latest Reviews
krgood reviewed v1.6 on Mar 19, 2015
I used this for Outlook 2010, it installed and seemed to disappear. I could not find any trace of the program but as soon as mail check started,..it scanned my incoming mail..It hung on Gmail and had to reboot to get outlook back. Same thing again...So I uninstalled it...trouble is it buried it's self deep in the registry and even after I uninstalled it, I kept starting..so did a registry purge and it STILL started...It totally mucked up my outlook profile and had to create a new profile to get rid of it...Not sure why it hung up my system but users be aware of the difficulty of uninstalling this addon...
KuHGl reviewed v0.9.9.59 Beta on Sep 1, 2011
Sorry, but as a program which is designed to work together with major mail clients it should be able to find a Thunderbird profile even if this Thunderbird isn't installed, but only used as unZipped Add. Thunderbird is known to use a well known path in Windows systems... which Spamihilator doesn't find?!?!?

Additionally there is no possibility to configure it to work with additional Mail accounts?!? Who in the world (except the REAL greenhorns, sorry to say that) does only use one mail account???

So in my eyes there is still a lot of work to do on Spamihilator to make it a useful program... without even a functionality test I tend to rate it too positive - that's the reason for 3 *.
us3r reviewed v0.9.9.44 on Feb 6, 2009
I used this program for a year and a half or more. Recently I changed my email to Gmail, and I do not need any anti-spam software any more :). Gmail doesn't send or attach any spam to your mail. Also it can filter spam from other email accounts you might have which can be attached to your Gmail account and you can have all mail in one place with spam filtered :). Also Gmail supports IMAP protocol which allows in very easy way to synchonize all your devices like PDAs, Mobiles, Laptops, Desktops, etc.
war593122 reviewed v0.9.9.44 on Dec 23, 2008
Windows Mail and Windows Live Mail are two totally different products. Just for your info. ;)
Fafner76 reviewed v0.9.9.41 on Apr 22, 2008
Using it since some years now.
I'm using it with Vista's Windows Mail and it works perfectly...can't understand the "lack of support" another user reported. Maybe the lack of an autosetup for the mail accounts in Windows Mail...but it's easy to set them up manually.
fuhayer reviewed v0.9.9.39 on Apr 7, 2008
i already used mailwasher pro and can say that spamihilator is one step ahead of it the number one ! good job.
Hellcat_M reviewed v0.9.9.39 on Apr 7, 2008
Good program but it doesn't support the new Windows Live Mail yet. It only supports up to outlook express 6.
madmike reviewed v0.9.9.39 on Apr 7, 2008
Tried this, its fiddly and with due respect, Outlook 2003 does a great job also;) so although its free, it doesnt cut it for me.
Rafel reviewed v0.9.9.39 on Apr 7, 2008
@digitalking:
Your post have no sense:
You are ratuing a program with 5 stars and you r talking about another program. You are stuopid.
This program is great, and free. you spend no money in this great program.
digitalking reviewed v0.9.9.38 on Mar 10, 2008
Here is another program that functions the same way, with more options(not free). Has been avialable for years.
http://www.firetrust.com...products/mailwasher-pro