File Details

File Size
0.5 MB
License
Open Source
Operating System
Windows Server 2003/XP
Date Added
January 7, 2008
Total Downloads
4,610
Publisher
Sparklesoft
Homepage
SparkleXP
Publisher's Description
SparkleXP is an application designed to tweak Windows XP and improve its performance. It helps freeing up computer resources resulting in a faster and responsive computer. This tool creates a second Hardware Profile and a correlative new User to get a lightweight desktop. You can choose to boot into your regular or SparkleXP configuration at startup.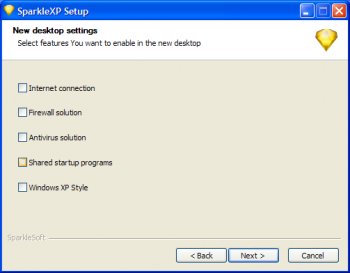 View Full-size
Latest Reviews
Zygi reviewed v0.28 on Oct 24, 2007
Maybe gaming for example ? Or lets say audio mastering, recording with low latency (with need for lot of cpu all the time) ?
sparklexp reviewed v0.27 on Oct 9, 2007
Discovered a language issue in the options page...

Fixed in release v0.28
http://switch.dl.sourcef...klexp/SparkleXP_028.exe
Treize reviewed v0.27 on Oct 8, 2007
It does create a fast, optimized profile...I don't really know what use that could be. I installed it after I did not see a use for it.
sparklexp reviewed v0.26 on Oct 6, 2007
@wognum
Check out the official website for more
details and features www.sparklexp.com

or read this nice guide:
Windows XP Services Profile Guide
http://www.blackviper.com/WinXP/xpprofiles.htm
wognum reviewed v0.26 on Oct 5, 2007
how exactly does it work?
serrebi101 reviewed v0.24 Beta on Sep 30, 2007
It worked, and it is kind of cool in how it does what it does, but the speed improvements whern't that incredible. Uninstalled because I screwed with xp enough that an app like this doesn't add anything I didn't already do.
Orbitration reviewed v0.24 Beta on Sep 29, 2007
This might be ok for a kiosk machine that you want semi-crippled, but I sure didn't find it any faster on my XP Pro box with 2 gigs of ram.

Way too many things disabled and not able to change them through normal channels, not sure why, unless group policies were enacted somewhere. I didn't take the time to find out.

And the kicker was when you uninstall it, you better hope you did a system restore point BEFORE you installed it, you won't get your previous settings back unless you do.
sparklexp reviewed v0.24 Beta on Sep 29, 2007
SparkleXP v0.25 released - 2 oct
> Changelog:
# Fixed shared startmenu
# Fixed profile handling
# Fixed installation

http://easynews.dl.sourc...klexp/SparkleXP_025.exe

Thanks for all the feedback!
Don't forget that even though its pretty stable, this is BETA code, and could be not ready for production use.

@Orbitration:
>>but I sure didn't find it any faster on my XP Pro >>box with 2 gigs of ram.
You're so lucky, 2 gigs of ram.
What about a notebook with 512mb?
Anyway I can't reproduce your issue.. try to explain it better or report a bug here:
https://sourceforge.net/...=204011&atid=987895
Sampei reviewed v0.24 Beta on Sep 29, 2007
I'm very satisfied with this new version.
I have had no problems at all with this program.
good luck! :)
auutumnsun reviewed v0.24 Beta on Sep 28, 2007
I have XP Pro and the two times I installed it and rebooted, I was stuck at the Applying Computer Settings screen.

The other thing I noticed is that after uninstalling the program, the folder %USERPROFILE% is now on my desktop. Anyone know why and how to remove it?