File Details

File Size
5.5 MB
License
Freeware
Operating System
Windows 2000/Server 2003/Vista/XP
Date Added
October 10, 2010
Total Downloads
27,357
Publisher
SpeedBit Ltd.
Homepage
SpeedBit Video Accelerator
Publisher's Description
SpeedBit Video Accelerator makes your videos stream faster and play smoother, reducing buffering problems and video "hiccups". The unique video search lets you find the latest and hottest videos around the web, and the "Recently Accelerated" list gives you instant access to the last videos played.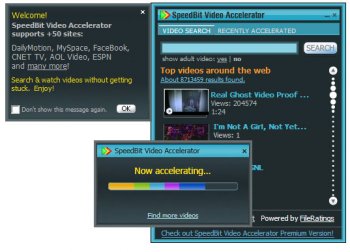 View Full-size
Latest Reviews
corywolfe reviewed v3.1.5.7 on Mar 13, 2019
An excellent tool for those who need, say, torrents running, while watching streaming video.
lakke2120 reviewed v3.1.5.7 on May 16, 2012
Program slowed my computer tremendously and changed my internet primary connection settings. DONT TRY THIS PRODUCT, especially if you do not know how to clean it out of you computer completely. I am a tech with over 10 yrs experience.
jake47 reviewed v3.1.5.7 on Oct 6, 2011
Dont bother with this it screwed up my laptop.I installed it it didnt work i lost my internet connection on my laptop.It was a pain to uninstall as well.
dude2011 reviewed v3.1.5.7 on Feb 27, 2011
Don't waste your time downloading this garbage. After I downloaded it, I couldn't get connected to the internet, I couldn't watch most of my DVDs anymore, and it caused my system to crash. I would rather wait a long time for videos to buffer than have this useless trash in my computer. SpeedBit got lucky that the lowest rating I could give it was a one, otherwise it would've got a -5 like it deserves.
Snicker0076 reviewed v3.1.5.7 on Feb 3, 2011
Was great, No adware,malware and did as promised.
Did have a problem when trying to change what you were watching (kept downloading the old stream) to another video.
Recent update has destroyed its effectiveness and had to be removed to ensure system stability.
Problems were-
It was unable to connect most of the time.
When it did connect it was saying there was an update.
When it tried to open Firefox to update, Firefox developed a bug that prevented it from opening web pages.
- Bad Jojo.
Pity as it WAS a great little program
madmike reviewed v3.0.9.9 on Sep 10, 2009
Installed this and boom the videos on youtube are loading like lightning,. excellent product:))
Zer0 Voltage reviewed v2.2.4.6 on Jul 7, 2008
Count me as another who only gets a BSoD system crash with this. Specifically, a stop 8E on sbbotdi.sys - or even more specifically:

STOP: 0x0000008E (0xC0000005,0xA78B6AB6,0xA753E9D0,0x00000000)

sbbotdi.sys - Address A78B6AB6 base at A78B4000, DateStamp 475bb24b

XP SP3 with a 2.8 GHz Intel P4 and 1 Gig RAM.

Happened at the end of the install and after every subsequent reboot. Had to uninstall it in Safe Mode to fix the system.

This is a real bummer since I do quite a lot of video streaming from some of the sites this supports and I was hoping it might help with some of the slower ones (like Dailymotion, tudou, and sometimes Veoh).

Normally I'd give it a 1 after this, but since it is openly stated as potentially unstable beta code and since the concept is excellent and since it works well for others, I'll do an Emeril and bump it up a notch to 2. ;-)

I hope this bug gets resolved and I can try the program someday. For now I'll try submitting a report through their support link since their "Discuss" link doesn't actually point to a discussion...

July 12 Update:

On July 8, I reported the crash details through the support form here:

http://www.videoaccelerator.com/support/

and to my surprise I received a response about 12 hours later asking me to submit a memory dump for analysis (which I did that same day - through a service they have for uploading large files).

I haven't heard back since submitting the dump, but hopefully someone will eventually look at it. I did see that they released a new beta version (2.2.4.9) on July 10, but it still crashes on my system - so I assume that release coming so soon after my report was just coincidence.

If they ever get back to me and/or fix the problem, I'll update this review (or post a new one). In the meantime, I would advise anyone else seeing blue-screen crashes to submit a report through the support form I linked to above. More reports might increase the possibility for a fix.
Zee333 reviewed v2.2.3.0 Beta on Mar 5, 2008
Don't listen to peoples stupid reviews.
This program works and it has nothing to do whether you have a good ISP or not, its about how many connections are made to the YouTube servers.
This program really does accelerate streaming not just from YouTube but from like over 100 sites i read on the website.
this program is not full of ads either like people have posted, it prompts you to install the Ask toolbar but you can opt out of installing that.
does exactly what it says it does!
sooti reviewed v2.2.1.5 Beta on Dec 21, 2007
in general the concept works good, but speebit are know for there ads and unwanted ask.com toolbars.. which is why i give it a 3 instead of a 4 if it had no annoying bugs an ads
keir reviewed v2.2.0.6 Beta on Nov 13, 2007
the last version gave me the blue screen of death, several times, I'm not just talking out of my ass, several minidumps I have identify a .sys driver from this as the culprit, I wouldn't mind seeing a changelog to see if they've fixed that.