File Details

File Size
2.9 MB
License
Freeware
Operating System
Windows (All)
Date Added
June 30, 2016
Total Downloads
212,885
Publisher
Alfredo Milani-Comparetti
Homepage
SpeedFan
Publisher's Description
SpeedFan monitors fan speeds, temperatures and voltages in computers with hardware monitor chips. It can even access S.M.A.R.T. info for those hard disks that support this feature and show hard disk temperatures too, if supported. It can even change the FSB on some hardware. At the lowest level, it is a hardware monitor software, but its main feature is that it can control fan speeds according to the temperatures inside your pc, thus reducing noise and power consumption.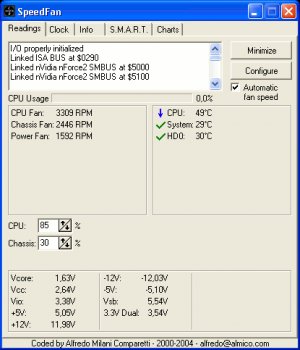 View Full-size
Latest Reviews
inkowyouknow reviewed v4.50 on Aug 20, 2014
Does what it says, and does it well
Music4Ever reviewed v4.48 Beta 6 on Jan 2, 2013
Made my fans fun so fast it sucked the cat into the PC case, I never noticed they were running fast though.

Good, interface a bit dated but it's free & does the job well.
tontito reviewed v4.47 Beta 2 on May 8, 2012
nilst2006 you are funny

Speedfan destroying your funs, lol

How much voltage did you put on it?

never seen a fun been destroyed by low rotation
jcollake reviewed v4.46 on Mar 27, 2012
A classic piece of freeware. Yea, the interface is what it is. However, it is probably best kept complex to prevent accidental misconfiguration by the layman. A little intimidation on advanced projects is sometimes appropriate. The author also has a minimalist design to his web sites, except for the ads, which are a little aggressive. He might tone them down, but that's the site. Software is good.
nilst2006 reviewed v4.46 Beta 4 on Feb 14, 2012
This %&¤&%¤% destroyed one tiny fan on my mobo ! If i knew that all fans where set to 100% when Windows were shut down i had prevented this disaster. It was a while ago, but i warn people from using this without going throuth all settings properly, twice !!!!

Nope, it was NOT my fault the setting were 100% after install and the 1st start. I can only blame the program. I usually always check settings properly in software i install. I didn't with this one. That fan it destroyed should never have a speed above 25%. To You below who blame me, got to H !
Mirage_Etoile reviewed v4.46 Beta 2 on Dec 31, 2011
It could get better , too bad a poor interface
johnk119 reviewed v4.45 Beta 2 on Sep 24, 2011
it is possible that running at 100% could decrease your fan's lifetime..... It was most likely your fault for not checking it occasionally and allowing it to run 100%... It only provides options for you to use and is not responsible for peoples' stupidity
some guy reviewed v4.45 Beta 2 on Aug 30, 2011
seriously this program did not blow up your computer! faulty fan did and a improper setting in your bios should have set the pc to power off after it reaches a certain temp... just to funny
Input Overload reviewed v4.44 on Jul 13, 2011
Put the new SIW on.
jorgosch reviewed v4.44 Beta 2 on Apr 5, 2011
Great features, but latest versions needs admin rights to start it meaning it can't be run on startup anymore without a hassle. This makes it pretty much useless for me now.