File Details

File Size
3.4 MB
License
Freeware
Operating System
Windows 2000/Server 2003/XP
Date Added
December 17, 2010
Total Downloads
13,527
Publisher
Advanced Audio Software, Inc.
Homepage
Spider
Publisher's Description
Spider is a free, feature-rich, and easy-to-use audio player for Windows based on "Bass audio library" from Un4seen. This program has Unicode support, powerful tag editors for different file types, music ripping support, CD-text support, CD extractor, easy to use song lyrics editor, internet streaming, skins support, support for different interface languages and more.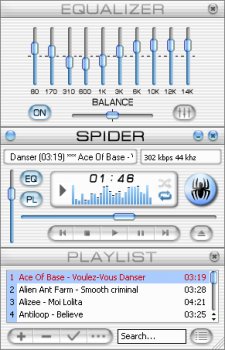 View Full-size
Latest Reviews
bobad reviewed v2.4.6 on Oct 11, 2010
Pretty good knockoff of XMPlayer. Looks great, sounds great, portable option, what more can you want? 5 stars! I still prefer XMPlayer, but this is very close!
v4npro reviewed v2.4.1 on Apr 6, 2010
AIMP does have a raido browser. It's a plugin that comes with it.
Aegis69 reviewed v2.4.1 on Apr 6, 2010
If AIMP would just build a radio browser into it, I would have no need for Spider.

Till then I use SPIDER for radio and AIMP as my main player, and I only use those because AUDACIOUS, the only good open source player is not available on Windows.

edit: ok found AIMP's radio browser, that must be a new feature since I last updated.
Alexander-GG reviewed v2.3.11 on Aug 4, 2009
AIMP is light, feature rich and besides, totally free.
guesswho reviewed v2.3.10 on Jul 19, 2009
@URAWMD
What a misleading comment! This is exactly what "this thing" doesn't do.
Of course the download page has a strong "buy pro" message, but the program itself *never* nags you. And most PRO features are there in the Basic version, but with some limitations, for obvious reasons.
P.S.
Disregard the rating, I'm biased :) Just wanted to add some clarity.
URAWMD reviewed v2.3.10 on Jul 7, 2009
Buy the pro version, Buy the pro version, Buy the pro version, Buy the pro version...That's all this thing does
urlwolf reviewed v2.3.9.5 on Jan 24, 2009
Well, feature-wise it's obviously not at the level of Mediamonkey (MM) or Winamp (i.e., currently it has no library, no last.fm support etc). But, for some reason I cannot fathom, it sounds better to ME. It's also very light in memory usage, and keyboard-friendly; that's all I need for now. I drag form MM library to this, then close MM because I cannot afford the memory it takes.

Great program. We should all be proud that things like this get written.
PS: I'd really like to know what it does to make it sound better than others!
coover reviewed v2.3.9.1 on Nov 17, 2008
Publiusher's page is down. Homepage is down. Download page is down.

Still, the application is certainly one of the best of it's type.

I assume whatever problems the Publisher is having will be fixed, hopefully soon, so I will continue to try to get the download.

Spider is very, very good.
petiot reviewed v2.3.9 on Nov 5, 2008
well a 5 partially because it pisses me off to see people writing "good but does not have this or this and I would like to see this bla bla". This player may not have all the features of all the music player altogether, but it has many that other don't. To start with it is portable, and i wish more developers would make their apps portable. It is a prehistoric approach to coding to write all over C and in the registry.

Apart from this, the player is nicely thought, and nicely implemented. You don't like the default skin, choose the second on installed. At least the developer had the taste of putting two skins with different graphic feel to them. you dont like the color, change the hue setting and you get any color you want. Then the radio feature works flawlessly. Favorite is simple but very usable. Format conversion and CD ripping is nice in the pro version (you can rip to flac). it displays audio quality where it should be: in the main GUI, it has a ten band equalizer etc etc. I didn't even start using all the features of this player yet.

What I would like to see (or to know how to do) is to be able to display track data in the playlist (like album, kbps, etc).

Thanks and keep up with the excellent work!
improvelence reviewed v2.3.9 on Nov 4, 2008
DudeBoyz is really on this programs johnson. This thing is not very likeable. Plays songs but I see no advantage to this over other players. Default interface is ugly.