File Details

File Size
29.2 MB
License
Freeware
Operating System
Linux, Mac, Windows 7/Vista/XP
Date Added
May 4, 2017
Total Downloads
3,024
Publisher
SpiderOak, Inc.
Homepage
SpiderOak
Publisher's Description
SpiderOak provides an easy, secure and consolidated free online backup, sync, sharing, access & storage solution for Windows, Mac OS X, and Linux.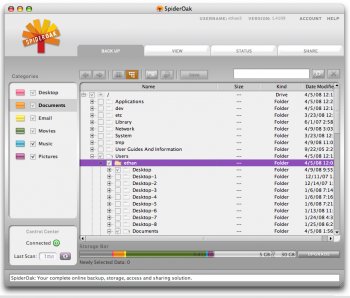 View Full-size
Latest Reviews
Lsavagejt reviewed v6.2.0 on May 5, 2017
Ditched Spider Oak when it started giving me problems. I know, it was probably me. Much happier (for now) with Mega.
Cuelebre reviewed v6.0 on Jul 23, 2015
Not freeware. 2 Gb for two months trial.

Read the bottom of this page:

https://spideroak.com/solutions/spideroak-one
CyberDoc999 reviewed v5.2.0 on Apr 10, 2015
Yunio is a scam... SpiderOak is OK
Backblaze has Unlimited Online Backup $5 a month
Aegis69 reviewed v5.1.6 on Jul 20, 2014
Owncloud people, unlimited space for fre! Why do people waste their time paying for cloud services??
Lsavagejt reviewed v5.1.6 on Jul 19, 2014
I have used SpiderOak reliably for over a year, and my only two complaints about it are that it retains an awful lot of "unknown" files. I suspect those files are files that I have deleted from my computer, but nowhere in SO's help file is this indicated.
Aegis69 reviewed v5.1.2 on Feb 21, 2014
Yunio gives away 1TB for free, linux mac and windows clients. Get that, avoid this.
Aegis69 reviewed v5.0.3 on Oct 29, 2013
The spam is pretty thick in here.
Erita reviewed v4.8.4 on Mar 26, 2013
My experience with SpiderOak is very good. It allows me to sync/backup any folder in my computer. It backs up every version of my files, and deleted files can be found in its recycle bin. And, I like its "Zero Knowledge" privacy environment which is the most secure sync solution I could find so far. In addition, it works on all major operation systems available on the market. Regarding to deleted files, they can be removed from the recycle bin easily on the "VIEW" tab in SpiderOak.

If you sign up SpiderOak through the following link and we both get 1GB extra storage!
http://goo.gl/QS1T7
And, use the promo code "WorldBackupDay" to get extra 5GB for free. That is 6GB in total.
xuetongyan reviewed v4.8.4 on Mar 17, 2013
Get 7 GB for FREE!!!

https://spideroak.com/do...47871ab1edb00f8c5e219df

USE the above referral link to get an extra free 1GB (new SPIDEROAK.COM users get 2 GB, if you use my referral link, you get 3 GB. After you signed in, go to UPGRADE MY PLAN, and use promo code: Freedom4, then you get 7 GB FOR LIFE!
xkronite reviewed v4.6.9943 Beta on Jun 7, 2012
UPDATE >>
Unfortunately, since my last review I've left SO and went back to SS. There were simply too many sporadic issues that made me feel that my data was not being synchronized when and as I would expect it to. SO is very good cloud storage, but the sync part was just not up to par.
If you're looking for basic cloud storage, no one can hold a candle to the security that SO offers. If you need fast and reliable SYNC capabilities > SugarSync is by far the most cost effective and reliable in this class. While the others may offer comparable solutions and reliability, their lack of functionality and high prices place them out of the SugarSync realm.