File Details

File Size
4.2 MB
License
Freeware
Operating System
Windows (All)
Date Added
August 14, 2020
Total Downloads
69,579
Publisher
BrightFort LLC
Homepage
SpywareBlaster
Publisher's Description
SpywareBlaster doesn't scan and clean for spyware - it prevents it from ever being installed. By setting a "kill bit" for spyware ActiveX controls, it can prevent the installation of any spyware ActiveX controls from a webpage. It does this while not interfering with "friendly" ActiveX controls - so your browser can work correctly and you can have peace of mind.
You won't get any more annoying "Yes/No" boxes popped up, asking you to install a spyware ActiveX control. In fact, Internet Explorer will never even download or run the spyware ActiveX control. In addition, it can prevent many of these spyware ActiveX controls from running, even if they are already installed on your system.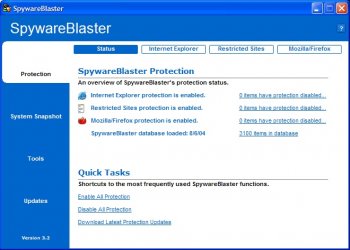 View Full-size
Latest Reviews
Music4Ever reviewed v5.5 on May 19, 2016
Hard to rate as it's always unknown whether its really stopped Spyware registry items being applied - However I never pick up any Spyware so SpywareBlaster probably helps a great deal, never caused any issues either.

Must get around to donating!
darkwzrd1 reviewed v4.6 on Feb 10, 2012
@nilst2006, no offense but your a idiot.

Google Chrome has a built in Sandbox which means overall it's very secure. I'm not the biggest fan of Chrome, in general but to say its Spyware is absolutely ridiculous.
nilst2006 reviewed v4.6 on Feb 10, 2012
DKDude: Chrome is a spyware if anything is....

From the 1st of March i boycott all Google services due to invasion of my privacy. There are alternatives online.
DKDude reviewed v4.6 on Feb 9, 2012
Used this program for years, but now I only use Chrome, and the program does nothing for Chrome, so I have to say bye.

But thank you for a great program, and for those who use one of the supported browsers, get this program.
RWW reviewed v4.5 on Nov 29, 2011
I have used this for a long time but since I use Chrome and Opera almost exclusively I don't think it is helping much. Maybe for the rare times I need to open a site in IE (and then I use Maxthon).
Input Overload reviewed v4.4 on Sep 1, 2010
I was hoping they might have included Chrome, & Safari. As I use neither IE8 or Fireflop I don't suppose it's worth having on any-more. A good program for those users though.
Zoroaster reviewed v4.2 on Apr 14, 2010
SpywareBlaster, together with Spybot S&D, two faithful companions ever since my very first days on the Web.
BTW, version 4.3 is available as of today.
CyberDoc999 reviewed v4.2 on Apr 15, 2009
Not really needed for FireFox
If you use IE you deserve your viruses and spyware
Scipio reviewed v4.2 on Apr 11, 2009
I've been using SpywareBlaster together with SpyBot S&D ever since it first came out. Never had a single problem with it, and unlike some antispyware it doesn't seem to cause any problems or slow Internet Explorer down.
niknetpc reviewed v4.2 on Apr 11, 2009
Very good antispyware app for those who prefer manually updating database ;)