File Details

File Size
0.9 MB
License
Shareware, $3.00
Operating System
Windows 8
Date Added
August 30, 2013
Total Downloads
923
Publisher
StartIsBack
Homepage
StartIsBack
Publisher's Description
StartIsBack returns Windows 8 a real fully featured start menu and start button, behaving exactly like the ones in Windows 7. It radically improves desktop usability and makes new Start screen clutter-free. It is fully native lightweight zero-privileges program, cheap and fair, fast, stable and secure.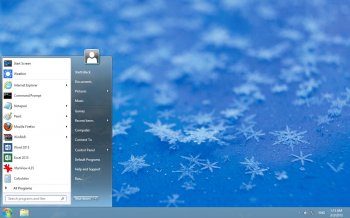 View Full-size
Latest Reviews
uberfly reviewed v2.1.2 on Aug 31, 2013
Been using this on 8 and really it's pretty much the start menu from 7. Hard pressed to tell the difference, but with a few extras in configuration... Very nice, lean running. Great.
DKDude reviewed v2.1.2 on Aug 31, 2013
Been using this gem since it's early days, the best for win8 to bring start back.
Keep up the good work guys.
mtnsteve reviewed v2.1.2 on Aug 31, 2013
I started using this on windows 8 (64bit) since it was a beta and love it. I tried all the others and always came back to this. I like that it doesn't add any new running resources like almost every other program does.

I recently started using the alpha version when I installed windows 8.1 Pro Preview and am now using StartisBack Plus RC2 on my 8.1 install. It works great!

You cant beat the price and Tihiy , the creator, really works with those in the beta testing to make this the best it can be.
DudeBoyz reviewed v2.1.2 on Aug 30, 2013
I still don't use Windows 8.x - I prefer 7 Pro 64 bit. BUT, for those that do, like some buds of mine, this program looks really good. Very close to the original in Win 7. Gotta love that.
tylergierke reviewed v2.1 on Aug 23, 2013
statls back for the win
CyberDoc999 reviewed v2.1 on May 15, 2013
Windows 8.1 will not have a start menu
it will have a visible button that takes you into the metro screen
Music4Ever reviewed v2.1 on May 15, 2013
It's highly debatable if the update to Win 8 will actually bring full use of the start menu back, (it wont) it isn't even in beta yet anyway ~

(Lord works for nothing & is happy to be paid zero salary)
ali4ek reviewed v2.1 on May 15, 2013
Love it for $3 for 2 licenses.
Not sure why one would be willing to save $3 and wait for another 6 months for some realization of this function in Windows 8.1.
But to each their own.
pjb reviewed v2.1 on May 15, 2013
Good programme, does what it is supposed to do. $3 is a fair asking price for covering 2 pc's.

Nice updated version.
-Lord- reviewed v2.1 RC2 on Apr 29, 2013
1. Start Menu 8 is free. This is not.
2. Wait for the 8.1 update to windows. It's free, this is not.
3. See items one and two above.

Total waste of money and time.