File Details

File Size
189.5 MB
License
Open Source
Operating System
Windows 2000/XP
Date Added
July 1, 2020
Total Downloads
11,139
Publisher
stax
Homepage
StaxRip
Publisher's Description
StaxRip can easily convert your DVD's, DVB or DV captures or almost any other source format. As a open source application StaxRip is completely free. Supported video formats are: DivX, XviD, x264, MPEG-2, MPEG-4. Supported audio formats: MP3, AC3, MP2/MPA, AAC, DTS, WAV, Ogg Vorbis. Supported container formats: AVI, MP4, MPG, MKV, DIVX.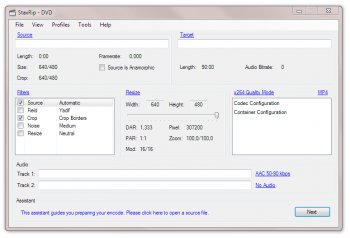 View Full-size
Latest Reviews
uberfly reviewed v1.1.7.0 Beta on Oct 27, 2010
Works great for me. Fast and stable with high quality results.
Juhandra reviewed v1.1.6.9 Beta on Sep 1, 2010
Perhaps the most complete, most usable, and most user-friendly encoder GUI there is, competes with MeGUI for the best of the best
DudeBoyz reviewed v1.1.6.7 Beta on Aug 10, 2010
Larger than it should be / needs to be, and there are plenty of other alternatives that do not require DOT NET 3.5x and are therefore More stable, More memory efficient and run faster / better.

A decent open source app should be with self contained libraries (C / C++, etc) not reliant on and bound by a slow, buggy, trudging API.

If it was not free, it would not even be worth considering.
Banquo reviewed v1.1.5.3 Beta on Apr 6, 2010
Was unable to use it, crashed every time when trying to select ffdshow.
YoungOldies reviewed v1.1.5.3 Beta on Apr 6, 2010
The best of all movie conversion tools.
Bart Welson reviewed v1.1.3.0 on Feb 14, 2010
The definite king in conversion. Forget about the buggy MeGUI's or other RipBots or HDConvertToX's.

StaxRip beats them all on usability, clean layout, clever programming, quality of results, and it's not filled with countless bugs like all the others.
niknetpc reviewed v1.1.3.0 on Jan 10, 2010
I believe this is the best rip software, but this app crashes all the time when i try add some files for conversion,finally PC do not boot properly and i got start up repair. Use with caution!
RitoSwan reviewed v1.1.2.2 Beta on Dec 4, 2009
fantastic media converter front-end.
Stax knows how to make easy to use interfaces, and it's constantly getting better. Produces the best x264 and xvid encoding of all converters.
TGB72 reviewed v1.1.2.2 Beta on Dec 3, 2009
Staxrip is back and now better than ever.
Young Strider reviewed v1.1.1.2 Beta on Jul 21, 2009
Wow! Great to see some life again in the best of ALL encoding front-ends !

Thanks stax !